Dear Diva Readers,
top: 5px; float: left; color: white; background: #781300; border: 1px solid darkkhaki; font-size: 60px; line-height: 50px; padding-top: 1px; padding-right: 5px; font-family: times;">Vintage finds are dominating the "antiques" market place… with more and more clients seeking vintage pieces instead of period antiques. From mid-century modern to retro and beyond, there are so many stylish pieces that can enhance a home. My design philosophy has always been to mix antiques, vintage pieces, and modern objects for the ideal finished product. That's why I'm so excited the antiques expert—and AD&Co friend— Judith Miller http://www.millersantiquesguide.com has come out with a new book called Vintage Home.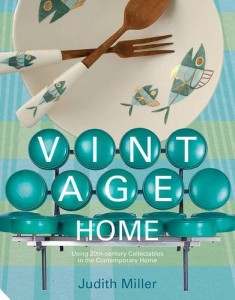 Miller has written over 100 books, innumerable articles, and is a regular guest on several television and radio shows – I may be The Antiques Diva – but Judith is unquestionably The Queen of Antiques. While I'm constantly adding her reference books which often catalogue antique furniture and objects to my personal library, this new addition showcases the best of 20th Century furniture and design and is a style guide which focuses on vintage and retro furniture. With a brief history of the Modernist movement, the book then looks at the Art Deco period, followed by the New Look & New Moderns, and finally finishing with a comprehensive directory of designers, makers, and suppliers, Judith does what she does best – She demystifies "antiques" and removes stuffy traditional rules from the genre making this "vintage" movement accessible to antiquers helping us understand no matter the age their relevance.
In the book, Miller highlights famous designers like Eames and Murano, and also sheds light on lesser known 20th Century designers. It's a fantastic reference book for collectors and a visual feast for interior design lovers. For those looking to start or expand a vintage furniture collection, this is the book to read before heading to the auction house or buying online. It's also a nice guide for the less serious buyer, as it covers mass-produced and highly popular designs that may be considered kitsch and not so costly, but still highly sought after.
I've seen a big trend in the last year with younger clients wanting to source vintage pieces as well as antiques. Mixing in vintage and retro pieces, be it a mid-century chandelier or a funky plastic chair is what interior designers are doing today and Vintage Home provides inspiration with its gorgeous photos as well as information on specific styles and pieces. Incorporating vintage pieces into the home can be tricky, but the homes featured in this book show how to tastefully add in vintage touches for the way we live now.
If you're a design fanatic like me, or simply interested in vintage furniture, I recommend adding Vintage Home to your library. It's a great way to learn about what I think is the next big thing in interiors and antiques, allowing you to know about the styles, designers, and makers of vintage and retro pieces.
Until next time,
The Antiques Diva®