Dear Diva Readers,
top: 5px; float: left; color: white; background: #781300; border: 1px solid darkkhaki; font-size: 60px; line-height: 50px; padding-top: 1px; padding-right: 5px; font-family: times;">I've said it time and time again— a big part of my company's success is due to finding the right people to work with – serendipitously those people have always appeared into my life.  Each of my Antique Guides not only love antiques but also have their own unique niche in the world. Some are into fashion, others manage properties and renovations while others run their own global stores. Our Diva Agent in the UK, Gail McCleod, wears many hats including being one of the founders of Antiques Young Guns and founder of Antiques News & Fairs. But if you were to visit her charming house in the village of Colerne, one peek behind the gate would reveal that she is an avid gardener who is passionate about her quintessential English garden on the hill of this dreamy village in Wiltshire.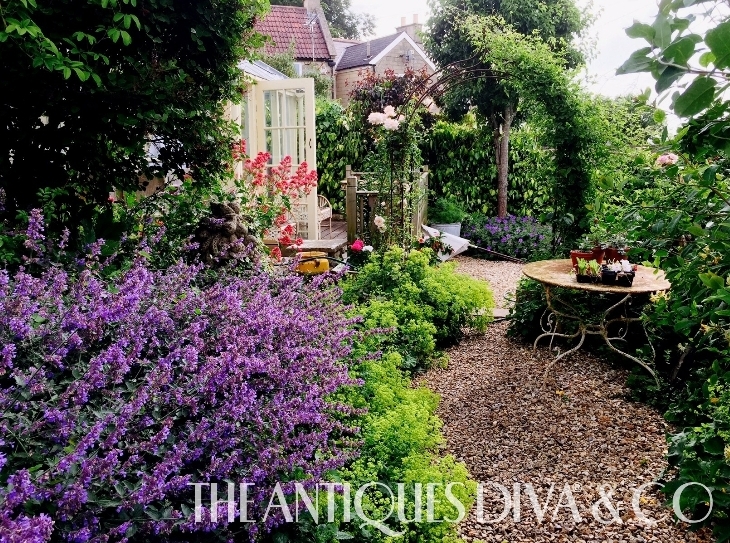 After staying with Gail on a recent Antiques Diva buying tour in the UK and seeing her garden in all its summer glory, I've asked her to share a bit about gardening and using garden antiques in particular on the blog.
The Antiques Diva:
What got you started in gardening? Have you always loved it?
Antiques Diva English Agent – Gail:
It has always been in my DNA – I cannot remember a time when I was not aware of what was going on in the garden.  I have bought 4 houses in my life and each time have asked to see the garden before the house!  In the summer I can usually be found at 6 am in my dressing gown tying in sweet peas, watering tomatoes, and cutting flowers for the house in the cutting garden.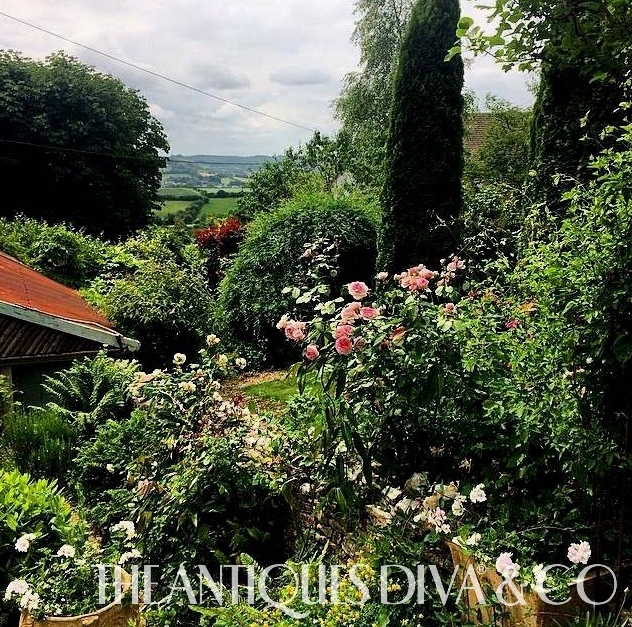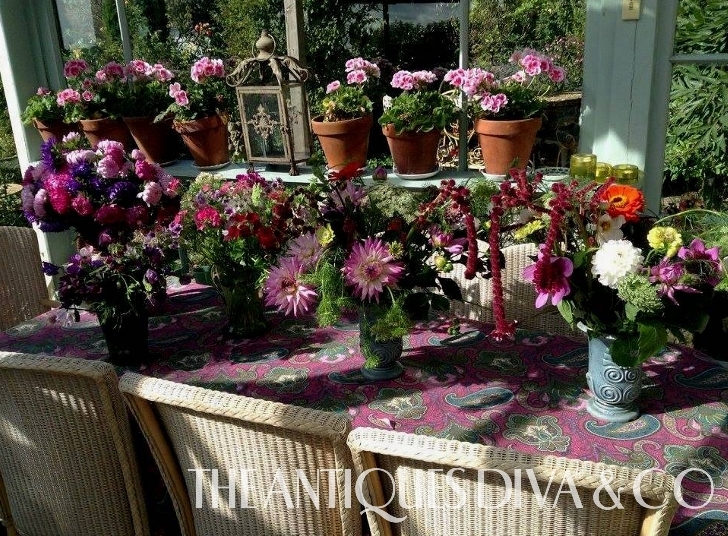 The Antiques Diva:
If someone's not a seasoned gardener but wants to create a beautiful garden, what's the first step? How do you get started?
Antiques Diva English Agent – Gail:
It really helps to follow a good garden blog or magazine for a full year. I read every day when I got my first proper garden.  In England the seasons dictate everything – people often say England has 4 seasons in one day with the unpredictable weather but in truth we have clearly defined seasons and the gardens reflect those seasons.  Good advice to any would-be gardener coming to a new garden – watch carefully for a full year if possible!  See which way the wind blows, where the sun falls or does not fall, see what comes up in the Spring – there may be 100s of bulbs under the ground to delight you so wait to see what happens!
A brown field site is a whole different story!  Aspect, soil, exposure to wind and sun are all vital but inspiration is all around us with wonderful garden shows, online blogs and luscious magazine articles.  Time is important, do not invest in a hugely complex scheme if you have a busy career (note to self here!). Be prepared to spend some time on the planning and make sure you attend to the details of soil preparation and planting schemes – and some fun embellishments to anchor the scheme and say something about you!  Above all, enjoy!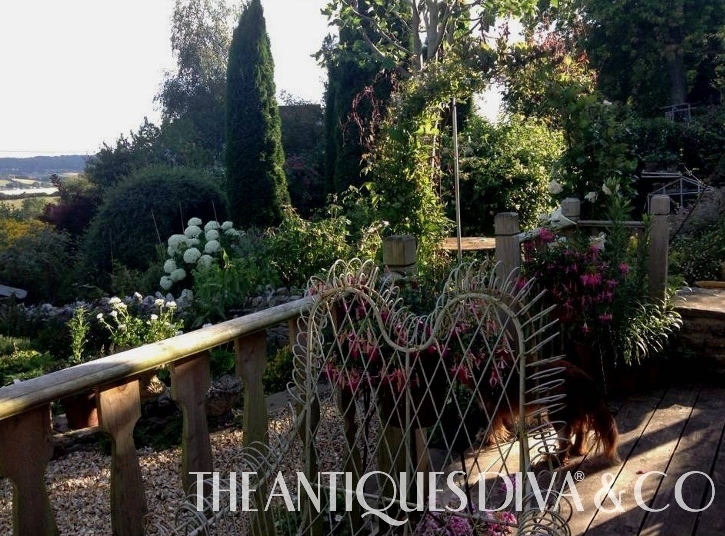 The Antiques Diva:
How do garden antiques help enhance and anchor a garden? How do you use them?
Antiques Diva English Agent – Gail:
Texture and colour is key in a garden and to have stone and terracotta to offset the luxuriant colours of the plants is a real must.  Antiques in the garden can also give form and structure which is particularly useful in a rampant cottage garden like mine – adding a touch of formality.  Planters, jardinières, troughs and urns of all styles – antique, industrial, vintage, all lend character to both traditional and contemporary schemes and fulfil the essential role of planting opportunities.  Not everyone is lucky enough to have a large outdoor space, many people lead crazy busy lives in cities and have a balcony or veranda – wonderful planting vessels offer a chance to be creative in a small space.
The Antiques Diva:
How have you achieved "garden rooms" in your own garden?
Antiques Diva English Agent – Gail:
Fifteen years ago when I first saw my current garden it was a 1/3 acre of tussocks of grass on a hillside site with no features and a few scruffy and determined plants.  However, it had a spectacular view of the valley below and I immediately knew what I would do with it.  I was influenced by Sissinghurst, the great Vita Sackville West garden which is divided into rooms by permanent planting with the famous "white garden" which I wanted to replicate to make the most of the outstanding moonlight in my open hillside site.  I was lucky to have a source for rustic timber poles and a talented local craftsman who went off to the woods to source the cross timbers for my rustic trellising which is a feature of the garden and was used to form the "rooms".  A very large proportion of my income then went on plants and irresistible pieces I just had to have—  cast iron benches, stone pots by the dozen, wrought iron fretwork tables and pretty chairs to dot around in spots to sit and enjoy the view – the list goes on!  Working in the antiques trade is a constant battle with temptation.  The Antiques Diva & Co Ltd has so many wonderful vendors on our books who inspire us on a daily basis with their fabulous finds, it can be very hard to resist sometimes!
The Antiques Diva:
What are clients most looking for when it comes to garden antiques?
Antiques Diva English Agent – Gail:
Currently there is one word on everyone's lips: architectural reclamation!  75% of our tours in the past 12 months have been architectural salvage tours, private and professional clients looking for architectural fragments for the house and garden – decorative iron work to convert to table tops or wall art inside and out, gates, fencing, doors, shutters, arbours, arches, planters, trellising, summerhouses, chimney pots, all sourced from fabulous old European houses, industrial buildings, schools, churches and glorious gardens.
Thanks so much Gail for taking some time to share a bit about your passion for gardening with us! One thing is for sure—you've inspired us! For more information on taking an Antiques Diva Buying Tour, email us at to:info@antiquesdiva.com">info@antiquesdiva.com.
Cheers,
The Antiques Diva®