Dear Diva Readers,
top: 5px; float: left; color: white; background: #781300; border: 1px solid darkkhaki; font-size: 80px; line-height: 70px; padding-top: 1px; padding-right: 5px; font-family: times;">Many of you know I lost my home in a fire last year on Thanksgiving.  It's taken 4 months of living in temporary housing before we found a new home which we moved in last month on April 1st.   Now, our new house sits near empty as we one piece at a time buy purchases to make our house a home.  It was an air mattress  at first, then they delivered the mattress for our bed – but we have to wait another 2 months before the bed itself is delivered.  It's not been easy and these 6 months since the fire have felt like an eternity.  Perhaps it's for this reason that my visit to New Orleans last month hit home more than I expected.  It's been 8, nearly 9 years since Hurricane Katrina hit the Gulf Coast in August 2005 and yet many residents in New Orleans still do not have homes and/or are still living in unrenovated homes.  One of the couples we meet in New Orleans on tour" target="_blank">#BlogTourNola who particularly touched my heart was Joe and Gloria Robert of New Orleans.
~ Photo Credits:  Linda Merrill of Surroundings ~
They were newlyweds looking forward to a bright future together when Hurricane Katrina hit.  They had lived in their new home only one month before Katrina slammed the city and they lost everything when the levee behind their house was destroyed – one of 53 levees in the city breached by the storm surge – and canal water swallowed the home. The Roberts evacuated the city, staying with various friends and relatives.  When the flood waters receded weeks later, Joe and Gloria moved into a pop-up camper in their driveway for a while, but they've also been staying with a family member as well.
Nearly eight years later, Joe and Gloria's house is still uninhabitable. While a new house has been framed out, the building lacks essentials including electrical, drywall, flooring and plumbing.  Because Joe is a contractor by trade, he has the skills to work on his house, but he has generously donated much of his free time to volunteering with St. Paul's Homecoming Center , helping to rebuild other people's houses.  You've heard the expression about the cobbler's children having no shoes?  Well that's Joe.  He's spending all his time and resources helping others.
Joe works on his home little by little, but is often derailed by setbacks such as having his house broken into and his tools stolen. Even though Joe was forced to save up until he could replenish his tool supply, he has not lost his faith in humanity and happens to be one of the most gracious, humble human beings you'll find.
Fortunately, Joe and Gloria received some good news recently when torehouse-and-NKBI-rebuild-3-homes?open&lpos=ctr_txt_NKBI" target="_blank">Storehouse of World Vision selected the couple and their house for a rehab project. A few weeks ago Storehouse joined forces with the National Kitchen and Bath Association (NKBA) and St. Paul's Homecoming Center to help rehab kitchens and baths in three houses as a lead-in to NKBA's Kitchen & Bath Industry Show (KBIS) which I had the opportunity to attend with tour" target="_blank">#BlogTourNola on  April 19-21 in New Orleans.
The Fund Raiser for Joe & Gloria is affectionately being called "Joe to the World"!
While Storehouse and NKBA partners have donated materials, appliances and labor for a new kitchen and bath in the Robert's house, the rest of the unfinished home still needs lots of TLC.   And that's why  World Vision has agreed to dedicate a page to Joe Robert and his story as well as a link to a fundraiser just for Joe.   This donation page is coded so that all funds received on this link by May 15 will go to Joe Robert and the folks at St.Paul's Homecoming Center.
Dear Readers, I ask you to join me in helping give Joe & his wife Gloria a home.  You can make a difference in one person's life – a person who has dedicated the last 8 years to making a difference in other people's lives.    Having lost my own home through a fire I can tell you recreating a home is healing – please join #BlogtourNola, NKBA, KBIS, Storehouse World Vision, and St Pauls Homecoming Center in helping to provide the basic necessity of helping to provide a roof over one's head
More About Storehouse of World Vision
World Vision's Storehouse network is comprised of six warehouses across the U.S. that receive corporate donations of new, top-quality goods made available to local community partners for distribution. Goods that are distributed include building materials, school supplies, personal care items, and clothing to over 2.2 million people in low-income communities annually.
More About the National Kitchen & Bath Association
Now celebrating its 50th Anniversary, the National Kitchen & Bath Association (NKBA) is a not-for-profit trade association that owns the Kitchen & Bath Industry Show (KBIS®). With nearly 60,000 members, the NKBA has educated and led the kitchen and bath industry since the association's founding in 1963. The mission of the NKBA is to enhance member success and excellence, promote professionalism and ethical business practices, and provide leadership and direction for the kitchen and bath industry worldwide. For more information, visit the NKBA Press Room or
call 1-800-THE-NKBA (843-6522). KBIS and NKBA are registered trademarks of the National Kitchen and Bath Association.
You can make a difference!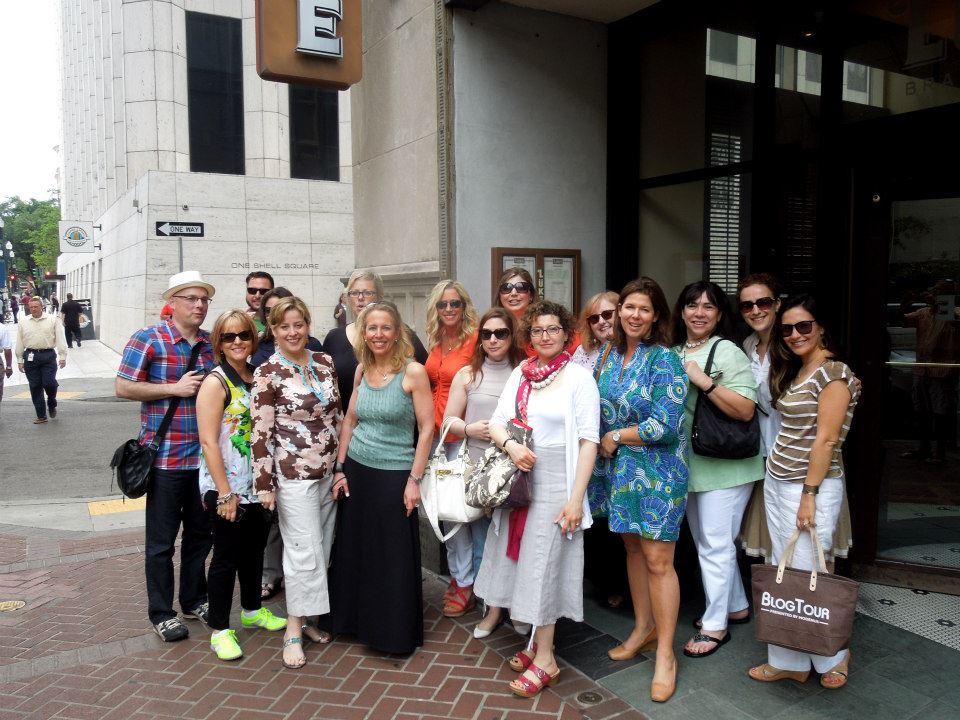 The Antiques Diva®
(seen here with BlogTour Friends)