Dear Diva Readers,       
top: 5px; float: left; color: white; background: #781300; border: 1px solid darkkhaki; font-size: 80px; line-height: 70px; padding-top: 1px; padding-right: 5px; font-family: times;">I was delighted that after this last month – which has literally found me on 3 continents in a months time (India, America & Europe) – that I was able to take time out of my busy travel schedule to attend the Awards for National Antiques Week at The Decorative Fair in London.   Gail Mcleod –  The Antiques Diva & Co's English Agent who manages our tours/england" target="_blank">antique buying tours for the UK and our buying services – just so happens to be founder of National Antiques Week and she finagled me an invite to this prestigious invite.  This meant I was able to rub shoulders with the movers and shakers of the England antiques trade such as Spencer Swaffer, Martin Johnson and the Fontaine boys and even shared a glass of bubbly with famous interior designer Nicky Haslam!!  My friend Ronda Carman of All the Best blog (and author of the fabulous new book Designers at Home) must have had burning ears for we chatted about her fabulousness over our coupe de champagne!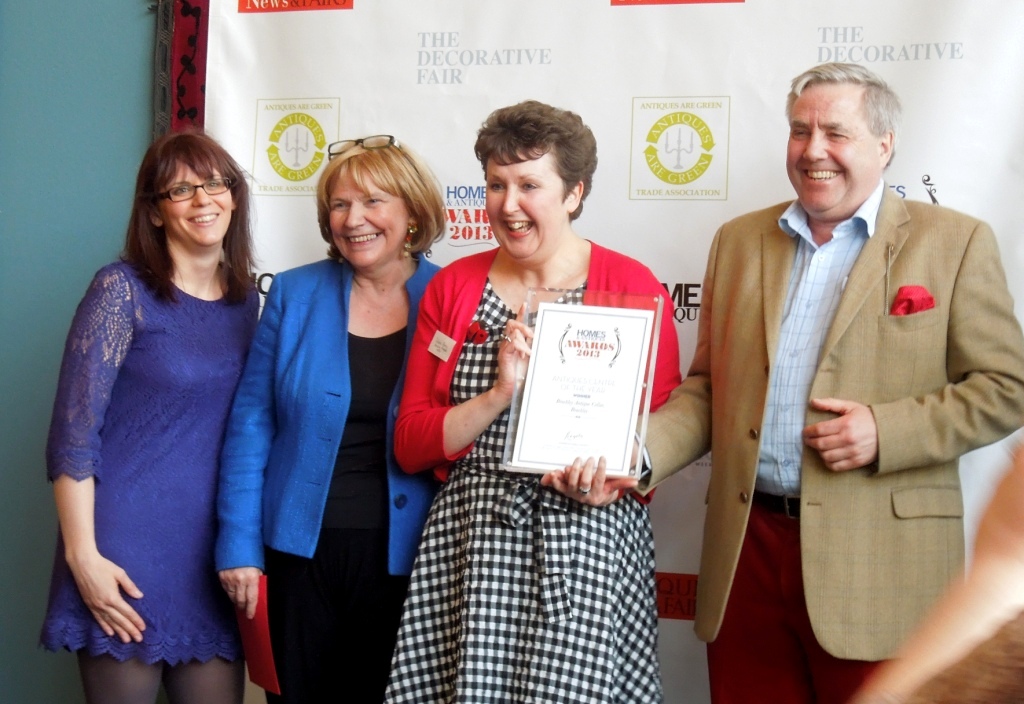 Publisher Homes & Antiques, Judith Miller and Winners Debbe Perry & Jim Broomfield of Brackley Antiques Cellar  
The awards being presented at the event were two fold – first there was the Homes & Antiques Magazine award for Best Shop of the Year.  Drum roll please… and the winner of  Antiques Centre of the Year for the UK is  Debbe Perry & Jim Broomfield of Brackley Antiques Cellar!
Brackley Antique Cellar is the largest purpose-built antiques centre in the Midlands of England with  over  160 independent dealers, 30,000 sq ft of antiques and collectables, under one roof and all on one level!  It has Diva-Divine written all over it.  The presenter for this competition was Judith Miller –  Miller is THE Goddess of Antiques. Moreover, she is a delight – she's a fountain of information – and quite simply as friendly as she is informative.  NEWS FLASH for my American Readers – Judith will be in NYC and Houston this November and is making special bookings for talks, book signings, etc.  Stay tuned for more details.
Nickey Haslam and Mark Hill
For the Young Guns competition the presenters were also equally high profile!   In order to be eligible for the Young Guns award you had to be an antiques vendor under the age of 39.  I was thrilled that by a hair I was still in the age bracket categorized as YOUNG!  The award presenters were Nicky Haslam, Mark Hill and George Johnson.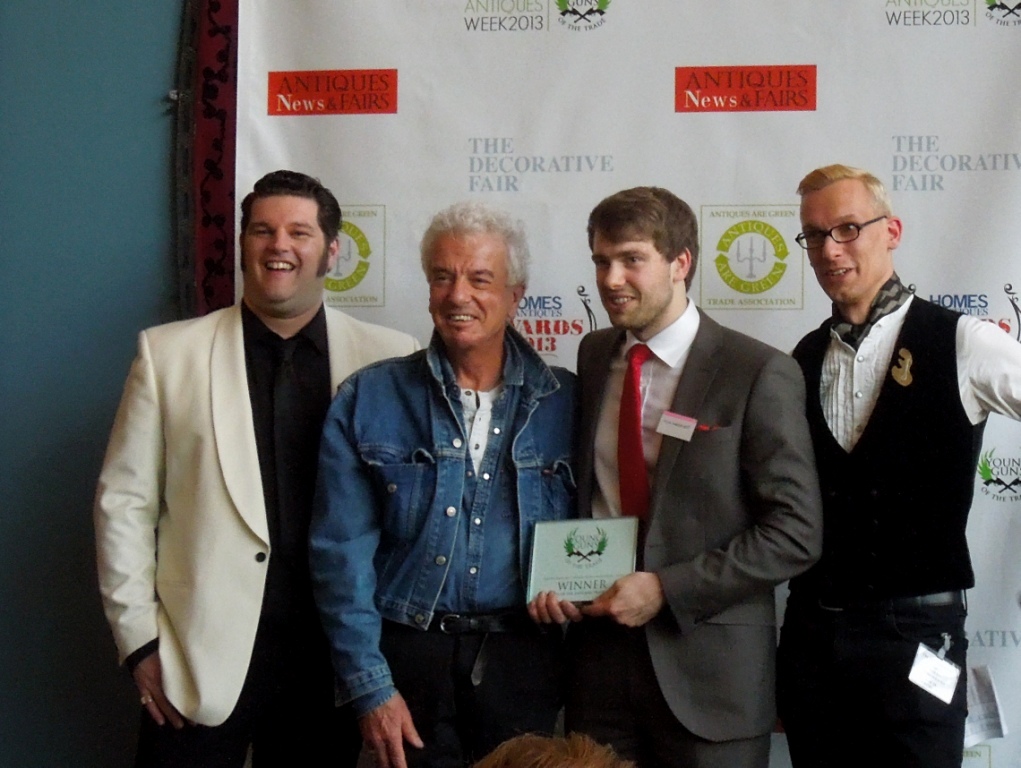 AND THE WINNER OF THE YOUNG GUNS AWARD IS…. TIMOTHY MEDHURST!
Photo:  George Johnson, Nickey Haslam, Timothy Medhurst of Reeman Dansie Auctioneers and Mark Hill
The Winner of the 2013 Antiques Young Gun was the 21 year old Timothy Medhurst of Reeman Dansie Auctioneers whom the judges all agreed was an outstanding ambassador for the trade based on his enthusiasm and energetic support for the campaign, his willingness to promote his fellow dealers and his absolute commitment to his profession. Well done Tim!!
Joint runners up were:  Keeley Harris who owns Discover Vintage and runs multiple events across the UK including Festival of Vintage. The judges agreed that Keeley's achievements and hard work together with her ability to include and work with her peers has really put her on the map and we felt that her success will be an encouragement for other young dealers in the vintage trade.
Chris Oxley of the family firm P A Oxley Antique Clocks has been a pivotal member of the Antiques Young Guns group on Twitter and has been a fantastic supporter of the campaign and his fellow Young Guns. Chris has displayed a heartfelt commitment to the family business since his teenage years and has taken the business – a traditional and highly respected business – into the 21st Century with gusto.

Special Award:  George Johnson, Alys Dobbie of Nana Dobbie, Nickey Haslam and Mark Hill
The judges were delighted to be able to award one extra prize on the night, having struggled to select just three winners from such a starry line-up! One of my favorite London haunts – Alfies Antique Market – generously offered a free stand at this famous and iconic London landmark antiques, vintage and Mid C Retro emporium for two months in the summer of 2013 and this award went to Alys Dobbie of Nana Dobbie who the judges agreed was the ideal person to make the very best of this opportunity. Alys has established a destination vintage and Mid C shop in Brighton and works with her father to manage another Nana Dobbie shop in Cornwall. She is perfectly poised to take London by storm and what better place than Alfies? Alys has a great sense of personal style and her shops reflect this and at Alfies she will have the chance to meet and interact with seasoned and experienced dealers – a true Young Gun experience.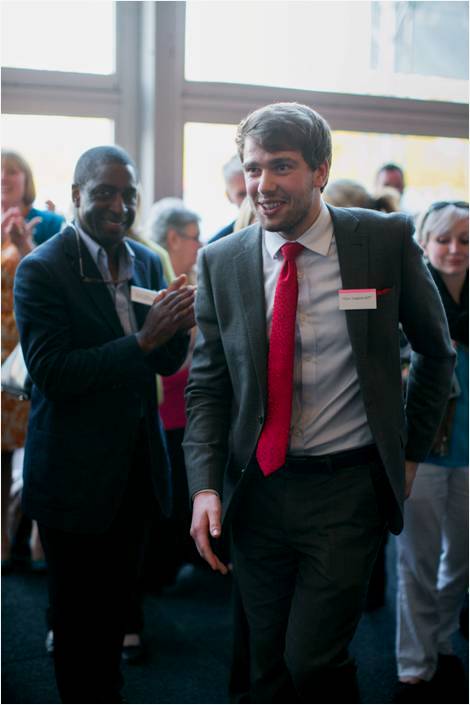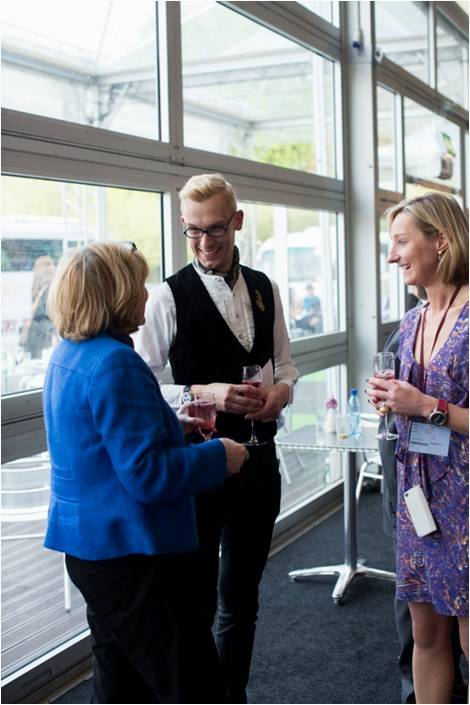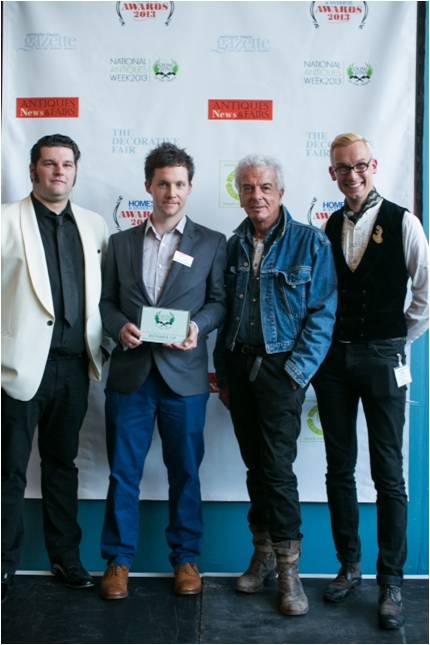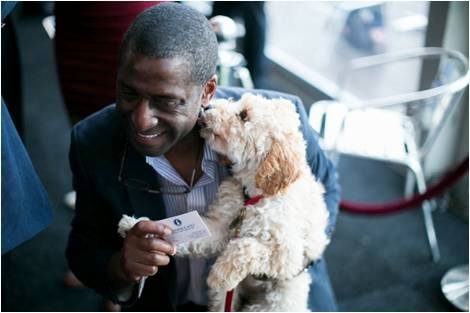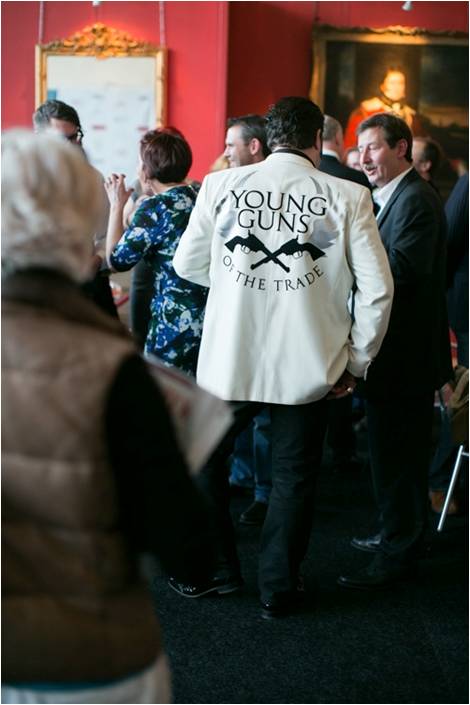 All the Young Gun shortlist will benefit from a fantastic package of prizes from the generous sponsors including:  Hotel Una Brighton; Cooper Antiques Fairs; Penman Antique Fairs; On-Line Galleries and Antiques are Green.
Congrats to all who received the awards and a special shout out to our Antiques Diva English Agent Gail McLeod for her tremendous work she does promoting the antiques trade in the UK.  I've said it for years that Gail is the most connected woman in antiques in England…. And seeing her in action at the awards Thursday night had me brimming with pride that she was part of our team.  Gail is not only a member of the Diva Team, but she's a dear friend and business mentor.  We love you Gail!!  Congrats on another successful National Antiques Week.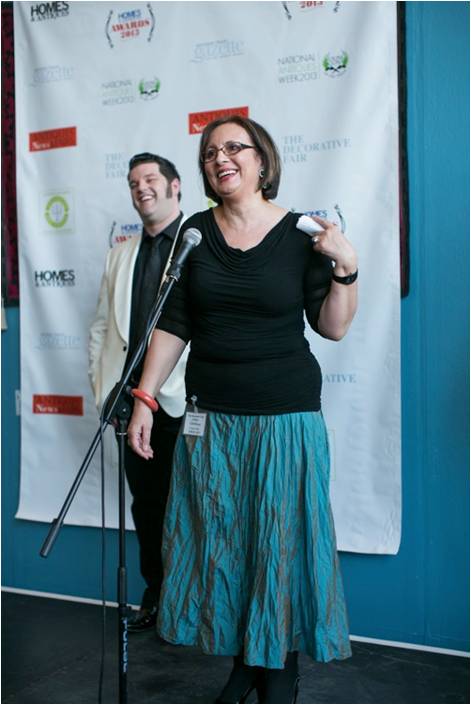 Gail McLeod – Founder of National Antiques Week and the English Agent for The Antiques Diva & Co
Warm Regards,
The Antiques Diva®