At The Antiques Diva & Co we offer more than just one on one customized European Antiques Buying Tours. When you don't have time to come to Europe we also offer Antique Buying Services. Just as our Antiques Buying Tours are custom planned for each client, our antique sourcing services are catered to meet our clients' individual needs. I recently received an email from a client who took a fantastic tour with Diva Guide Katie of the Paris Flea Market. She writes:
"Hi Toma, I took a fantastic tour last fall with Katie in Paris. Now we are trying to purchase a vintage chandelier for a spectacular bar, but unfortunately the one we wanted was already sold. Have you seen anything like it or do you have a source for chandeliers like this? The measurements are 47.5"Dia (Top) x 32.25"Dia (Bottom) x 18"H Thanks!"
Do I have sources for chandeliers like this? Of course! As Europe's largest Antiques Touring Company, our sources are extensive across the 8 countries we operate in. I immediately emailed all of my Diva Guides, asking them to send me any similar chandeliers on the market. Within just a short time, I had several responses with photos, measurements, and prices. Below, you can see what I was able to send the client: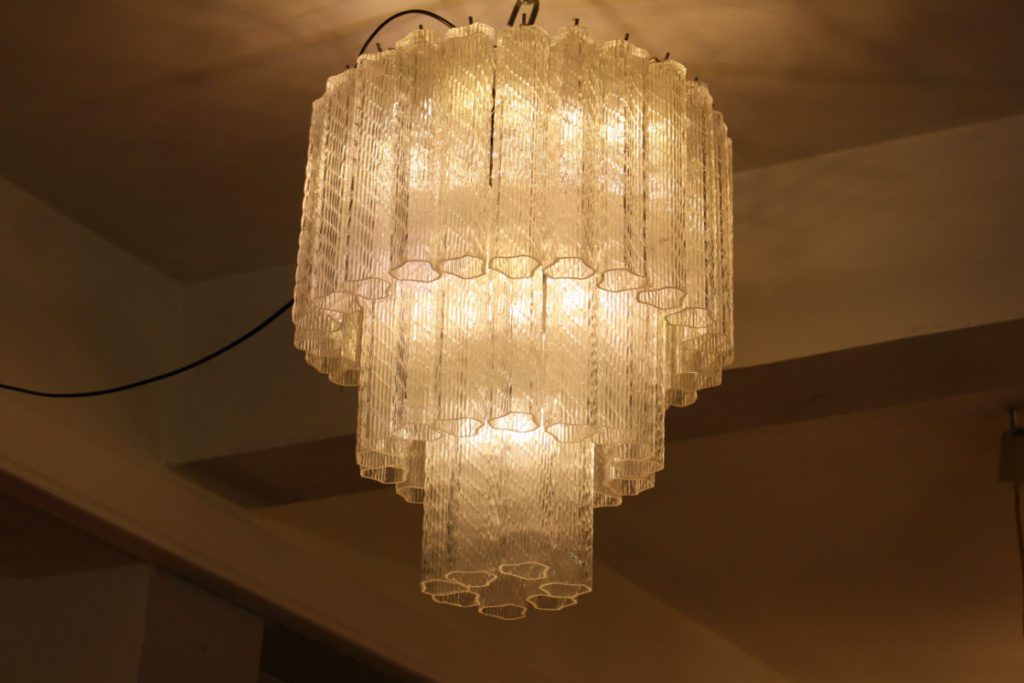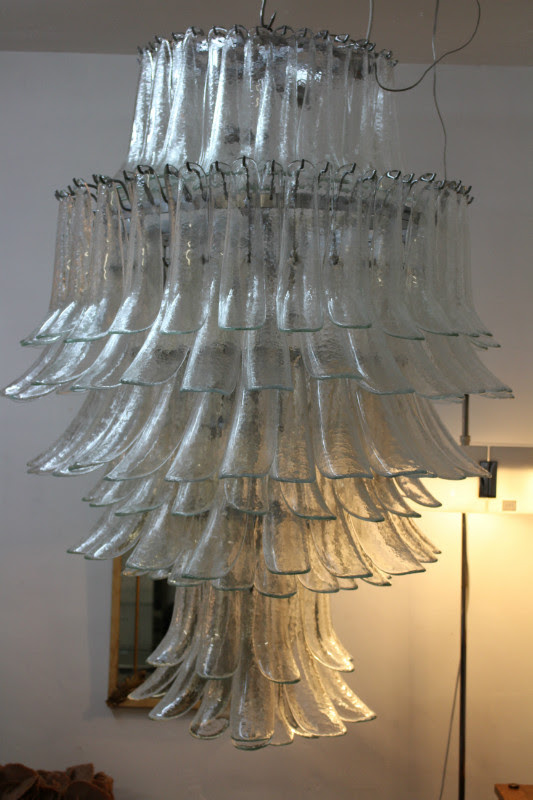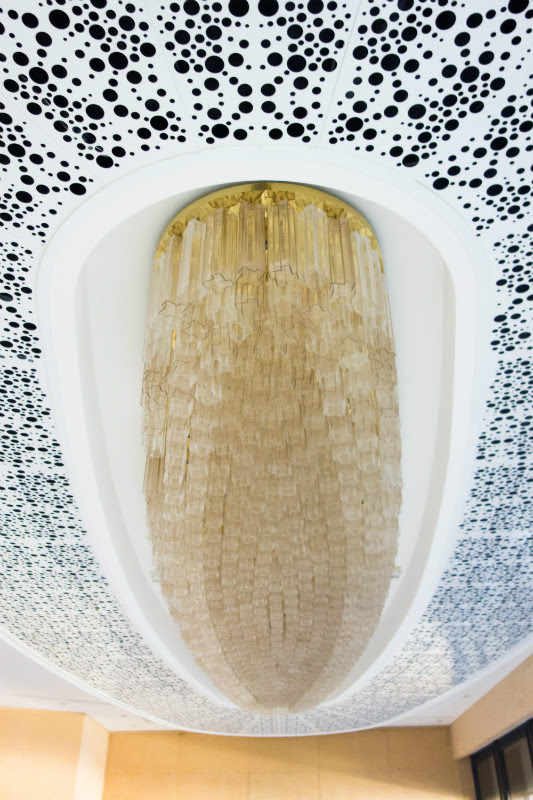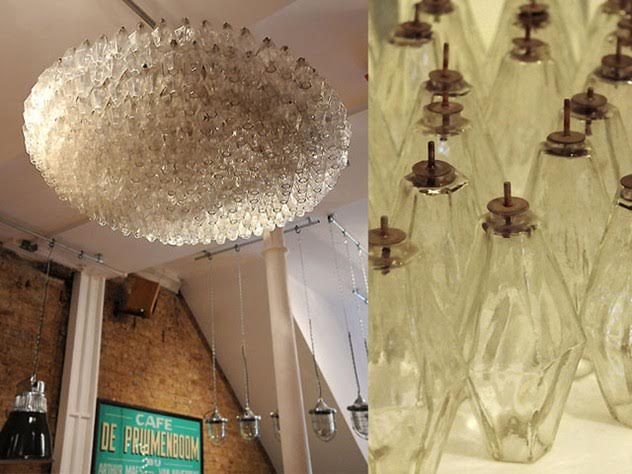 Shopping for chandleries, however, can sometimes be like shopping for the perfect little black dress—it has to have the look AND fit just right! And for those times… only haute couture will do. After corresponding with the client, she found that she was really still enamored with the "chandelier that got away." I could certainly relate, as I've had that feeling before too! Not wanting that item to haunt her for the rest of her life, I got my creative juices flowing.
I remembered a beautiful glass factory in Murano that we'd toured with clients. Perhaps they would know of something—OR perhaps they could even recreate the vintage chandelier she wanted in the first place?! Wasting no time, my girls on the ground in Venice Orseola and Chiara contacted them and explained the situation. They were more than happy to oblige, and the client now has a custom-designed replica of her coveted chandelier being produced in Murano as I write this. The value of our little black book couldn't be more evident than in this situation! Sometimes the solution to a problem isn't the most obvious… and sometimes our solution means we need to provide more than just antiques.
If you have a need to source a specific piece or an entire container of antiques, email us at info@antiquesdiva.com. Plus, if one of those chandeliers she didn't buy catches your fancy – let us know– some of them are still for sale. We'd love to help you find exactly what you're looking for—or have it recreated for you! And stay tuned to this blog, as I'll be sharing the final product once the chandelier is finished!
Ciao,
Toma Clark Haines, The Antiques Diva®
As the exclusive antiques tour guide company for the Paris Flea Market Marché Paul Bert Serpette, I want to share a few of my shopping tips if you're planning an antique buying trip in France! Armed with these tips, shopping the Paris Flea Market will be a breeze!
My Top 10 Tips for Shopping The Paris Flea Market
1. While I swoon for stilettos… the Paris Flea Market is not the place to wear them.
Bring comfortable shoes! A loafer or ballet flat or even a cute sandal with cork soles works… key thing is be prepared to walk a lot! With mile upon mile of French antique stands, it's important to wear comfortable shoes!
2. Bring cash!
While some vendors accept credit cards, the old adage is still true, "Cash is king!" Having cash on hand also helps when bargaining or asking for a discount. Also remember that you can also have your shipper pay for your purchases on your behalf, doing a bank transfer to the shipper for the cost of your goods.
3. Hire an Antiques Tour Guide!
While the market is open to everyone, an Antiques Diva Tour Guide unlocks the experience, introducing you to the best dealers, those secret sources and areas of the market you simply would never find on your own. Your Guide can also confirm provenance and a fair price. Another important thing your Guide does is gets you to the perfect place for lunch! At The Antiques Diva & Co, our guides all speak French, live locally, and are familiar faces while shopping The Paris Flea Market which means that many dealers know them and understand that when an Antiques Diva Guide brings a client, they mean business. This also works in favor for our clients since it means we have large buying power. We're not just coming in with your purchase… but the collective purchases of all our clients! Simply put with higher buying power we get better prices than you could ever get on your own.
4. Know about international art and antiques shipping!
Whether you choose to use our in-house shipping division or go with one of our favorite shipping partners such as Edet, not knowing how to get it home is never an excuse to miss out on a purchase! Depending on the size of your purchase, you may even be able to send items through La Poste— the French postal system – our guides can assist you with this.
5. If you're buying smalls, consider bringing an empty carry-on
with you so you can fill it with purchases that you can take home with you on the plane!
6. Be open!
You may have a shopping list with you—and that's great—but be open to everything The Paris Flea Market has to offer. You may end up finding that one thing you didn't know you needed!
7. When shopping The Paris Flea Market don't just think of yourself!
It's the perfect place to find truly one of a kind souvenirs in Paris for friends and family. Who needs a t-shirt when they could have a vintage necklace or a perfect hotel silver teapot from Paris?
8. Talk to vendors – ask questions – and express your interest and enthusiasm.
The Parisian Flea Market vendors are lovely people. If you're open and friendly and interested in their product, they'll be interested in you! Remember, as grandmother always said, "You can catch more flies with honey."
9. Don't expect things to be dirt cheap.
Yes, It's a flea market. But honey, these items are often several centuries old! You're paying for 100's of years of dust on these items -and the older it is the higher the price is going to be.
10. Once you've finished shopping the Paris Market… don't forget about the "Other Paris Flea Markets."
While I love the Marché aux Puces St-Ouen, I equally adore the Marché aux Puces Porte de Vanves and it's a ball to head out to shop all the local one-weekend brocantes and vide greniers. Consider going off the beaten path in Paris for more flea market shopping!
11. And yes, at The Antiques Diva & Co we always like to go a little above and beyond so our Top 10 Paris Flea Market Tips has 11 tips.
The fact is the Paris Flea Market is the kind of place you'll want to return to over and over again. It's an experience that can be repeated but never feels repetitive due to the constantly changing inventory! As the only approved guide of the Paris Flea Market Marché Paul Bert Serpette, we love creating an experience for our clients whether they are first-time shoppers or rookies.
Book Your Tour
Email us at info@antiquesdiva.com for more information on planning a custom tour for you. We'd love to help you navigate the vast market and create a lifelong memory!
Bonne Shopping!
Toma Clark Haines, The Antiques Diva®