Dear Diva Readers,
top: 5px; float: left; color: white; background: #781300; border: 1px solid darkkhaki; font-size: 100px; line-height: 90px; padding-top: 1px; padding-right: 5px; font-family: times;">Ever wonder which antiques and vintage items are going to be the next big thing in interior décor?  I'm not talking about fads, but trends.  What's the difference?  House Beautiful Editor in Chief Newell Turner explains in the January 2011 issue, "Fads come and go, Trends live longer."  The lads and ladies who curate London's famed Decorative Antiques & Textiles Fair recently shared on their website what they see as insider's tips on the current trends in interior décor.  After reading their list I was impressed by how "spot on" their tips were – one look around my own home and office shows how I had already implemented these trends, Antiques Diva® style!
 
Objects on a Grand Scale
Huge armoires, glass-fronted cabinets, giant mirrors and over-sized lighting have been especially popular this year.  In my own home I've implemented this look with my giant bulbous living room chandelier!  The non-traditional shape and oversized appeal adds wow factor to the room!
Black accents
Be on the lookout for black lamps, small furniture such as ebonized or japanned chairs, desks and occasional tables, and glassware. In The Antiques Diva® office, I have a small chinoised French Napoleon III side table punctuated with black-shaded lamp.
Upholstered furniture is more popular than ever
The Decorative Fair team claims upholstered furniture was flying off the stands at their last fair!  Advice I often give clients is that they can actually save money – and "be green" – by buying antique or vintage instead of new.  The Decorative Fair explains, "Antique furniture offers better quality value-for-money than new!"  Often I see items in furniture stores that cost 3X the price for a new reproduction that it does for an antique or vintage ORIGINAL piece.
Hotel Chic incorporating boudoir glitz and gold
 20th C furniture is especially popular in unusual finishes such as parchment, vellum and lacquer, antique Venetian mirrors, and lots of antique gilding – furniture, frames or lamps.  You can't go into a room in my home without coming across one of these items!  My bathroom alone incorporates both a gilt stand and a vintage Venetian mirror!
Industrial lighting vs feminine crystal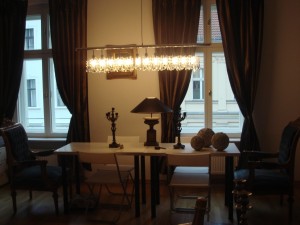 Top sellers at The Decorative Fair include quirky wall lights, original Anglepoise lamps, modernist glass chandeliers, extravagant antique crystal chandeliers and all kinds of floor-lamps.
 In The Antiques Diva® & Co office we juxtapose Baroque chairs with a white table and an über stylish modernist glass chandelier.
Floral and colorful textiles and useful English & Decorative wood furniture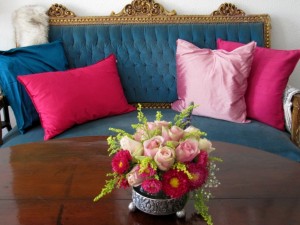 Floral and colorful textiles used as a 'statement' in a room: just one piece of upholstered furniture will get the look, or cushions and bed/sofa throws using antique textiles.  In The Antiques Diva® office, we set the Diva tone by using flush turquoise velvet with an array of pink silk throw pillows.
 
Decorative wood furniture that complements wallpaper schemes: chests of drawers, side tables, consoles.  The Decorative Fair reminds us, that now is a great time to buy – "Some prices are half what they were in the 1990s."  The English tea table I paired with my turquoise canapé is a functional piece I use daily – plus the dark wood tones down the gilding on the upholstered piece.
Natural history objects as decorative features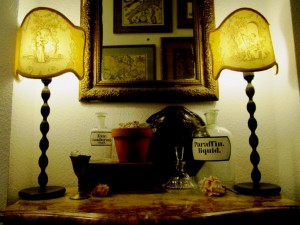 Large shells, fossils, antique coral, antlers, and large pieces of polished or natural quartz and semi-precious stones are being snapped up by decorators.  In my entrance hall, I use a combination of these elements to create a modern day Curiosity Cabinet type of display using a tortoise shell, a collection of shells gathered on beaches around the world and some old apothecary jars. 
Whichever way you choose to implement these decorative trends into your home, do it with Diva- Style!  Get ideas and shop for your home décor in our online brocante!
Happy Decorating,
The Antiques Diva®