The Antiques Diva's Shopping Tips for the Paris Flea Market
For first-time visitors to The Paris Flea Market, there are several things you should know before heading out for a shopping day. While many antique lovers build up an image in their mind of an easy-breezy day of strolling through a flea market set in a romantic neighborhood, the reality is that there are some tips that can help you find the market and navigate your way through it. As the only official approved Exclusive Tour Guide of the Paris Flea Markets Paul Bert Serpette, The Antiques Diva & Co is here to help with shopping tips for the Paris Flea Market! Here's our advice when it comes to shopping the famous Puces de Paris!
Getting There
The first problem many people have in getting to the market is actually finding the Paris Flea Market. I can't tell you how many people have emailed me saying, "I went to the Paris Flea Market, but all I saw was a shabby little market outside the metro station selling t-shirts, suitcases, stolen watches, and designer fakes! What did I do wrong? Where is the Paris flea market of my dreams?" Check out to-find-the-paris-flea-market" target="_blank">a blog I did here for directions on finding the ACTUAL Paris Flea Market.
St-Ouen is much larger than many people suspect. With 15 markets and nearly 2000 vendors in more than 7 miles of antique-filled alleyways, the only way to navigate is with a map or an tours/france">Antiques Diva Tour Guide. Fortunately we know the market like the back of our hand, and so when you shop with us we'll take you straight to the vendors you want to see, cutting out the areas that aren't on target for you, navigating the flea market based upon the types of pieces you're looking for. Many new art shops and vintage fashion boutiques as well as new antique dealers have opened in the last two years, making St-Ouen a cool weekend destination for Parisians as well as foreign tourists. Watch this space… a new hotel is opening up actually at the market! Now that's what I call convenience.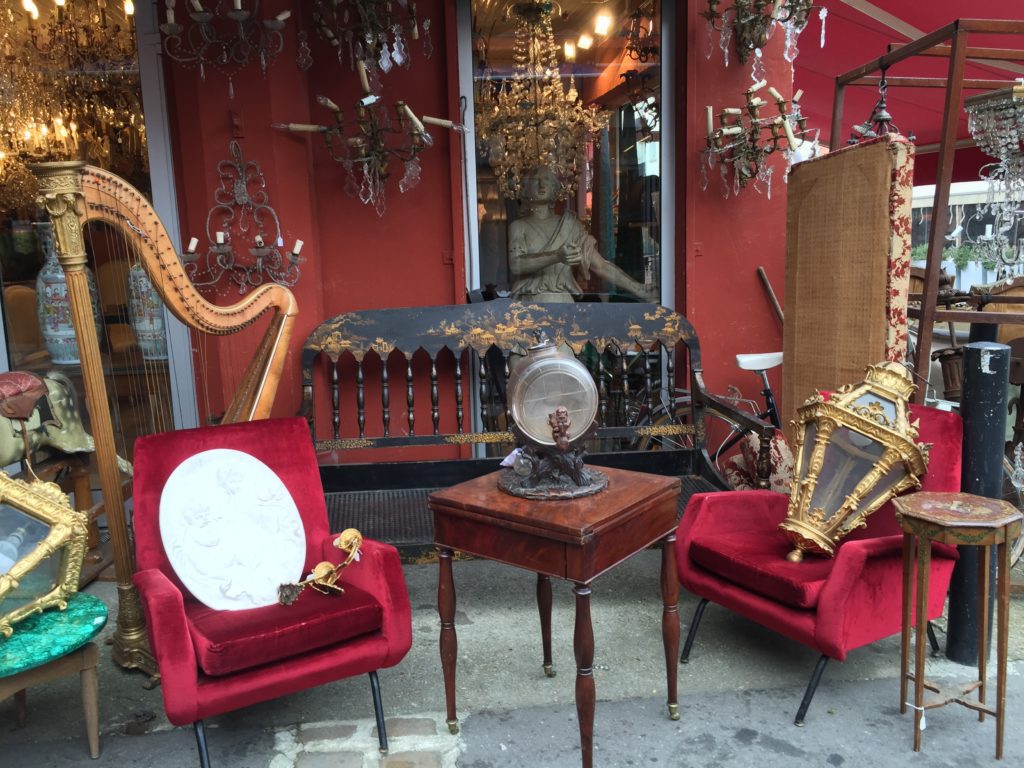 Bargaining
This is an issue many people struggle with – how to bargain, what's appropriate, and is it expected? There was a time, many years ago, when tourists were optimistic about finding a bargain at le Puces. One of the biggest questions I am asked is "Can you still find a bargain at the Paris Flea Market?" Back in the good ole days, it was a hodgepodge of vendors with a melange of inventory. This meant that a shopper may have been able to unearth a valuable treasure in a stand otherwise filled with junk. Let's just put it this way… there are no long any fleas at the flea market. It's gorgeous quality inventory… in fact, so gorgeous its almost ALL the stuff that you want to bring home with you. The market is now set up in permanent stalls – which means it can feel more like a retail experience than some Paris Flea Market virgins expect. So the question is – can you get a bargain at the Paris Flea Market? Absolutely!!! And want to know the best way to get bargain? Use our guides. We do volume business. The vendors know us and know our guides. They know we are coming back week after week and that our clients are pre-qualified shopper. You're not given the tourist price on an Antiques Diva Paris Tour – you're given the local price – because the vendors have relationships with us and know that our clients MEAN BUSINESS!!
Part of our service as the only official tour guide of Paul Bert Serpette at The Paris Flea Market is to translate & negotiate on our client's behalf. But if you're not with a guide (silly you!) what should you do? You need to ask. The easiest most polite way to ask is simply say, "Is that your best price?" It allows the vendor room to negotiate and sometimes they will surprise you by offering more of a discount than you expected. If you're shipping with a reputed shipper who will give export papers you can tell the vendor it's for export and automatically you can get a discount! For more tips on bargaining, check out this blog I recently wrote about tours/paris-flea-market-buy" target="_blank">What to Buy & How at the Paris Flea Market.
Food
Whether you're the type of person who prefers to stroll through the market, taking in every stand, or a power shopper who treats shopping like a sport, chances are you're going to need to refuel at some point. When hunger strikes, there are a few options for food at The Paris Flea Market.
For traditionalists, there is the Bistrot Paul Bert where one can enjoy a classic steak frites on Rue Paul Bert. My god, their French onion soup is so good that they don't allow you to order only it. There's also Le P'tit Landais on Rue des Rosiers where indulging in foie gras and a salad is the perfect lunch. For something new and hip, Philippe Starck's Ma Cocotte has been serving a wide variety of foods since 2012. And believe it or not le cheeseburger has become impossibly hip in Paris… and its on le menu at the Ma Cocotte.
However you envision your day at the Paris Flea Market, we're always here to make it easy and enjoyable so you'll not only come away with some treasures, but also with a lasting memory. In French souvenir means memories… and when you shop with The Antiques Diva & Co you're buying memories of your trip to France.
For more information on our Paris Flea Market Tours, email us at info@antiquesdiva.com. We'd love to custom plan a tour for you!
Bonne Shopping!
Toma, The Antiques Diva®