to Route" src="https://antiquesdiva.com/wp-content/uploads/2012/07/20120708-125607.jpg" alt="Antiques Diva Italy Tour" />
Dear Diva Readers,
top: 5px; float: left; color: white; background: #781300; border: 1px solid darkkhaki; font-size: 80px; line-height: 70px; padding-top: 1px; padding-right: 5px; font-family: times;">With my job leading antique shopping tours in Europe and England I have the opportunity to shop in some of the chicest locales abroad. However I have a rather un-diva-like confession. At this very moment I'm on tour in Italy with interior designer clients helping them to furnish a 200 year old Tuscan villa and moments ago I found myself excited that it was time to get petrol.
toRoute" src="https://antiquesdiva.com/wp-content/uploads/2012/07/20120708-125643.jpg" alt="Antiques Diva Tours" />
One of my favorite places to shop in Italy is the AutoGrill!
The gas stations in Italy are like no other… After filling up the tank a trip inside to pay is like entering a gourmet version of Ali Babas cave. Wooden wine crates bulging with Barolo share shelves with piles of pasta which have been delicately dried along the sea shore so that the salt in the air could settle on the linguine. Stacks of sausages saddle up next to chunks of aged cheeses and packets of exotic Mediterranean blends of herbs and spices fill the air with the aroma of Italy.
Perfectly percolated Espresso is served standing at the bar where simple panini and slices of pizza or even bowls of pasta can accommodate the hungry traveler. Though I'm not a soda drinker, in Italy I like to pick up a lemon soda. It's so refreshing and immediately transports me to the lazy days last summer vacationing in Amalfi.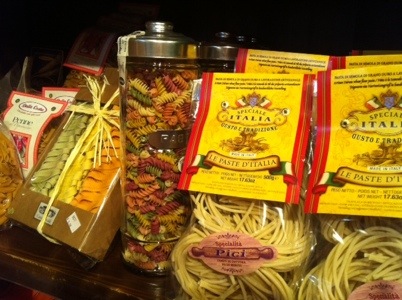 At the register, my basket is bulging with impulse purchases. The last item to go into the till is a liter of extra virgin olive oil. I'd found it next to the windshield cleaning liquid and knew at 9.99E it was too good to be true. I even bought my husband his souvenir from my biz trip – nope not a silk tie (though they are a bargain in Florence by the way) but a giant, year supply of Nutella! If that's not the definition of true love I don't know what is??!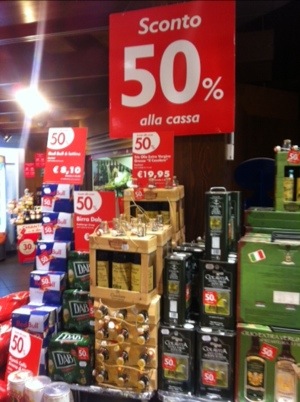 Coming to you live from the Autostrada, stay tuned for more from The Travel Diva!
Ciao Bella!
The Antiques Diva ®
PS – while I've trade marked my nomenclature The Antiques Diva ®, the term "Travel Diva" was actually borrowed from our friends at Travel Divas website!
tons/follow-me-on-pinterest-button.png" alt="Follow Me on Pinterest" width="210″ height="28″ />
tons.sociableblog.com/images/FB5.png" alt="" width="210″ height="40″ border="0″ />
tons.sociableblog.com/images/FMT6.png" alt="" width="210″ height="40″ border="0″ />