Dear Diva Readers,
top: 5px; float: left; color: white; background: #781300; border: 1px solid darkkhaki; font-size: 60px; line-height: 50px; padding-top: 1px; padding-right: 5px; font-family: times;">W ith the holidays upon us, it's got me thinking about entertaining and also attending holiday parties! Whenever I have guests over, I try to offer them tasty treats that I pick up on my travels. And of course, when attending a dinner party, I always bring a hostess gift— a bottle of Antiques Diva champagne is my standby gift— but it's fun to bring something special from another country too. To me, some of the best little treats can be found in Provence!
Many clients who shop Isle sur la Sorgue with us will stop into little shops and also pick up candied fruit, also known as crystallized fruit or glacé fruit. This sweet treat has been around for centuries and continues to be a favorite especially during the holiday season. The fruit is placed in heated sugar syrup which absorbs the moisture from within the fruit which in turn preserves it.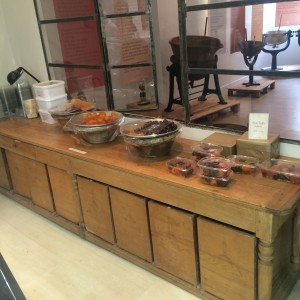 By continuing to dip the fruit in the syrup, it becomes crystalized and takes on a glass-like appearance. Once it's had its final bath, the fruit is placed on a drying rack before it is packed. Shiny and soft, the fruit is tasty and beautiful to behold! Anything from dates, cherries, lemons, oranges and pineapple can be used—even ginger! There is a small shop in Isle sur la Sorgue called Lilamand that not only makes some of the best candied fruit, but they also have beautiful wrapping, making these little packages the perfectly presentable petite cadeaux!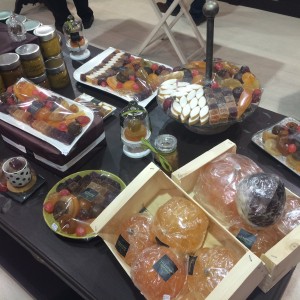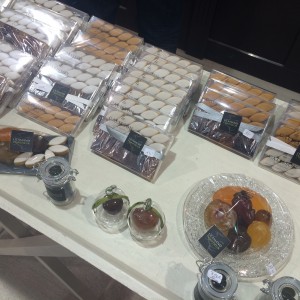 Another delicacy that can be found in this same shop are calissons. These are traditional French candy made from two ingredients: Almonds and candied fruit. The candied fruit acts as the first layer of the calisson which is then topped with ground almonds and finished with a layer of royal icing. Almond shaped and decadently sweet, these little morsels are a favorite treat after dinner and seem ideal as a treat during the holidays.
Lastly, you can find gorgeous little biscuits in Provence called Navettes. These small boat shaped biscuits are typically served on February 2nd to commemorate the arrival of the Three Mary's to the Camargue by boat. However, I say they are good to eat any time! The delicious crunchy biscuit can be flavored with orange blossom, anise or even lavender. Wouldn't these little biscuits be the perfect companions to a nice hot cup of tea on a cold day?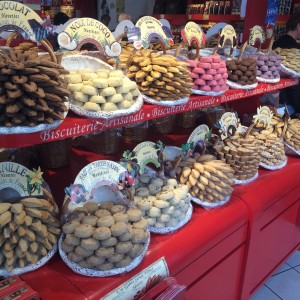 Talking about all these treats has made me hungry! I think I'll just go look in the cupboard and see if I've stashed any away from my last trip to France…
Cheers,
The Antiques Diva®