Antiques Up and Down the East Coast
Before I founded The Antiques Diva® & Co, I lived in Boston and worked in advertising. As a young woman from Oklahoma, Boston was my first introduction to New England interiors, design and art, and an opportunity to learn the history and culture of America's oldest colonies. I always say the most important tool in an interior designer's toolbox is a passport… For American interior designers, the East Coast and New England are a treasure-trove of design inspiration: American antiques, historic homes and architecture, and a unique mélange of cutting style and historical perspective – #NoPassportRequired! 
Boston remains close to my heart. Although I've lived and worked in Europe for nearly 20 years now, I travel frequently to the US and have had several opportunities to speak or attend events at the Boston Design Center and attend design events in the Boston area. I'm delighted to introduce today's guest blogger, Chesie Breen, Editor-in-Chief of ID Boston Magazine, a trade publication published and distributed exclusively by the Boston Design Center. 
Antiquing the East Coast: ID Magazine's Favorite Trends by Chesie Breen 
These are a few of my favorite things… in antiques up and down the East Coast.
Gray Antiques
Baltimore, Maryland
We first came across Gray Antiques on Instagram (@grayantiques) and are now both obsessed and impressed by their highly unique and sophisticated mix of fine antiques and vintage pieces. Located in the historic district of Mount Vernon in Baltimore, Maryland, the shop was started by Carol L. Vargo and Katherine Behrens Crosby. Their work combines Vargo's keen eye and retail experience with Crosby's interior design background and knowledge of antiques from stints at Sotheby's and Christie's in New York and Boston. They offer, by appointment only, a range of antiques and decorative pieces in their shop, including continental antiques from the nineteenth century, twentieth-century pieces from Maison Jansen and Paul McCobb, as well as handmade lamp shades from Massachusetts-based Perrotine Co. and decorative tabletop accessories from Aerin. They believe today's most modern and fresh homes are layered and personal, blending timeless pieces with new items to create an environment unique to the owners' personalities.
While you can certainly shop their well-edited website the real payoff comes when you work directly with this duo to source your design needs. Most of their pieces are acquired through auction, and they are experts at navigating this process and assisting designers and their clients with finding that perfect piece.
Lussier Lajoie
Market Stalls, BDC Suite 203
Anyone who visits the Market Stalls at the Boston Design Center knows that the secret weapon for spotting great finds with pedigree is Joe DiDonato.
This month he has his carefully trained eye on a new dealer: Lussier Lajoie Custom Framing. Along with exquisite and custom-designed framing, owner Daniel Lajoie sources a selection of rare and one-of-a-kind antique prints and reproductions. Adhering to museum conservation standards, products, and techniques, Lussier Lajoie Custom Framing designs and creates tailor-made frames that beautifully showcase each piece.
Trade Secrets
Falls Village, Connecticut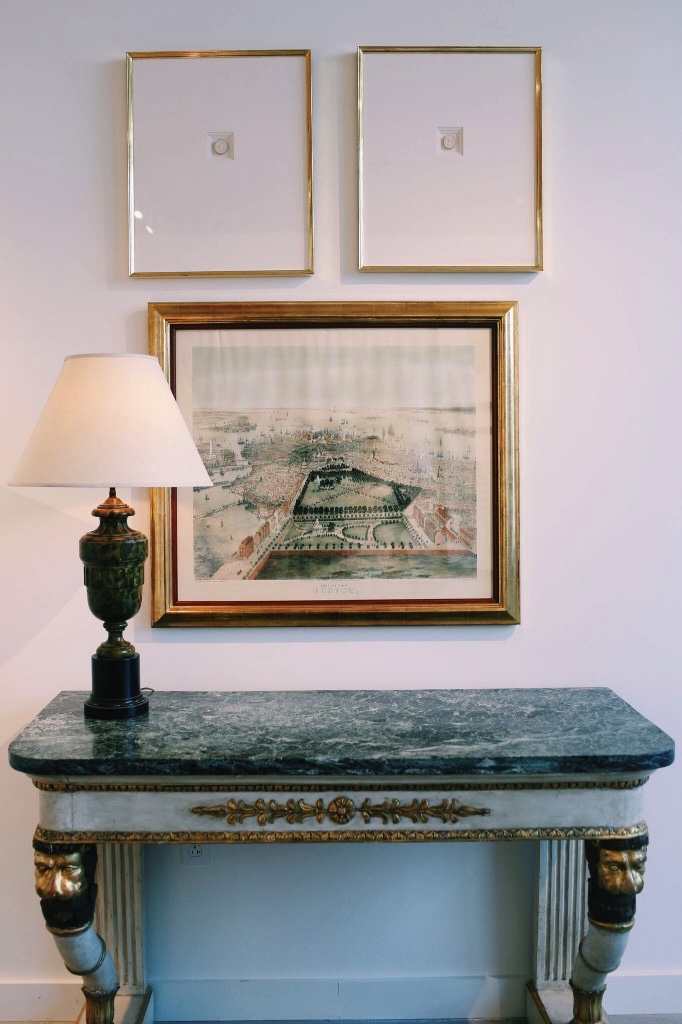 When interior designer Bunny Williams founded Trade Secrets with her husband, antiques dealer John Rosselli, from their home in Falls Village, Connecticut in 2001, their mantra quickly became, "If something is worth doing, it's worth overdoing!" Today, Trade Secrets is a must-visit destination every May for everyone from garden aficionados and collectors to anyone just interested in spending an afternoon supporting their community. "We've grown by leaps and bounds and raised a lot of important funds for Women's Services. We've had all sorts of weather over the years, including snow on the ground, but it doesn't dampen the joy that comes from a stroll through a beautiful country garden and shopping for rare plants and garden antiques," says Williams.
This year, guests toured the couple's gardens in Falls Village and were able to see Williams's new creative studio for the first time. Also on tour was architect Gil Schafer's garden, Middlefield, which he designed in collaboration with landscape architect Deborah Nevins. Rounding out the triangle was Wethersfield Estate, about which architectural historian Henry Hope Reed, Jr. wrote, "The inspiration is grand, the tradition noble, and the vision all-seeing."
Kinsey Marble & Co.
Charlottesville, Virginia
What do designers, past and present—from Albert Hadley and Mark Hampton to Steven Gambrel, David Kleinberg, Charlotte Moss, and Richard Keith Langham—have in common? When the need arises to help a client curate and build a unique library, they all turn to Kinsey Marable for his highly coveted, distinctive expertise. Located in Charlottesville, Virginia, Kinsey Marable & Co. specializes in furnishing distinctive libraries from New York and California to London and Paris. Seventeen years ago, Kinsey, then an investment banker at Goldman Sachs, gave up securities trading to deal in a more exotic commodity: rare and out-of-print books. Today, he is widely considered the premier American source for libraries. Though subjects such as architecture, fine arts, gardening, and design usually anchor his commissions, his knowledge is vast and versatile; for Oprah Winfrey he assembled a complete collection of first-edition Pulitzer Prize winners.
Another service he provides is cataloging and organizing your existing collection, as well as providing conservation services and meticulous binding and leatherwork. Buying an entire collection and selling it intact is another forte—he cites the libraries of Nancy Lancaster and David and Evangeline Bruce as examples.
Read more about the best of East Coast antiques and find interior inspiration in the Fall 2018 issue of ID Boston Magazine, now available in the Boston Design Center. 

Book a US Antiques Buying Tour: #NoPassport Required
The Antiques Diva offers American Antiques Tours: the best antiques sources and fairs in the United States – # No Passport Required! Our US Antiques Diva guides are antique and interior design experts who create custom antiques buying tours to our inside sources – where the designers shop. Whether you're looking to buy one specific piece or fill an entire store, our personal shopping antique buying guides share their vast knowledge of secret sources to take you to all the right places.
Ciao for now,
Toma Clark Haines is The Antiques Diva