Dear Diva Readers,
top:5px;float:left;color:white;background:#781300;border:1px solid darkkhaki;font-size:100px;line-height:90px;padding-top:1px;padding-right:5px;font-family:times;">For years I've worshiped at the design altar of Alessandra Branca, licking the pages of the publications in which she's appeared.  But my adoration neared obsession after I listened to an interview with her on my favorite blog/podcast The Skirted Round Table with Linda Merrill .  Branca is simply my favorite interior designer and when a long layover on a flight home for the holidays had me meeting up with friends in Chicago I had one request  – I wanted to visit Branca's decorating store!
With friends La Reine (blogger of She's Shopping Now) and Lady Lotus in Branca's Chicago Shop
Branca's Chicago shop – located at 117 East Pearson Street – exceeded all expectations and my expectations were high.  The fact that they showered my friends and me with bubbly minutes after entering the store added to the ambiance, but even without the prosecco I was in Branca heaven – swathed in black and white stripes and deep European red décor.  Her style is – like her – Italian, but her years lived abroad in the USA give her European Décor a  fresh American twist.
Branca's Chicago shop is magazine ready, perfectly staged for the pages of House Beautiful or Traditional Home.  Her combined mix of antiques and upholsteries in simple tickings juxtaposed with rich silk damasks has an exotic flair while her daring use of pattern pushes me beyond my comfort zone to take chances I might not have taken on my own.   Alessandra paints with pattern, and her varied colors range from steel grey and shocking pink to Pompeian red and sun-drenched ochre, the shade of old stone and stucco walls seen everywhere in Rome, the city where she grew up.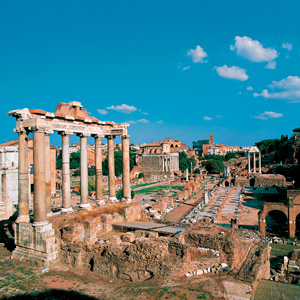 These Italian roots define Alessandra's work – growing up in Italy, Branca's concept of color was formed by Giotto, Raphael, and Caravaggio and her sense of scale shaped by Bramante, Borromini and Bernini. Today, these Italian roots are readily apparent in Branca's work.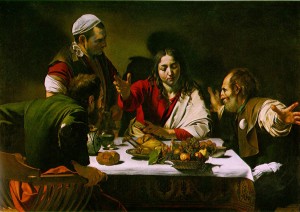 Notice how Branca's palette can be found in Caravaggio's "Supper at Emmaus"
Branca's book tore.branca.com/New-Classic-Interiors-w-Dust-Jacket-P468.aspx">New Classic Interiors is one of my favorite design books  and visiting her store felt like I had opened the cover and stepped inside for an actual tour of its pages.  Better than the book, everything I saw in the store was for sale, Chez Branca!
Happy Shopping,
The Antiques Diva®