Dear Diva Readers,
top: 5px; float: left; color: white; background: #781300; border: 1px solid darkkhaki; font-size: 60px; line-height: 50px; padding-top: 1px; padding-right: 5px; font-family: times;">A s many of you know I recently attended a very special event hosted by my two Diva Guides in Venice, Orseola and Chiara of O&C Antiques. These ladies delivered once again by creating a fabulous Salon style evening where artists, designers and collectors came together from all over the world for a few hours of thoughtful discussion while viewing some very special pieces of art and antiques. The mobile Salon (last year I attended their event in Berlin) encourages guests to learn about the pieces which have been curated by Orseola and Chiara, all the while enjoying antiques, art, music and scintillating conversation with like-minded people. The great part is that every piece, be it a rare antique or modern art piece, is available for purchase.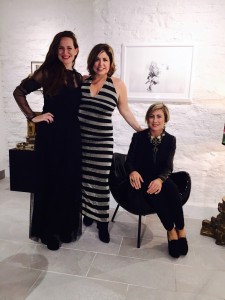 While everything at the Salon was gorgeous, I wanted to highlight five of our favorite pieces here on the blog to give everyone an idea of the type of objects these ladies are bringing together – better yet – it just so happens these are still for sale so even if you missed the salon you still have the opportunity to shop it!
First up is the sleek RM58 Classic chair originally designed by Roman Modzelewski in 1958. This fiberglass chair is one of the earliest Polish designs of polyester-glass laminate furniture and has no counterpart from that time, either in Poland or the rest of the world. One of the original chairs was purchased by the Victoria and Albert Museum in London and was displayed at the "Cold War Moder: Design 1045-1970" exhibition which was the first to explore the works in modern design, architecture, film and pop culture developed in the context of the Cold War, on both sides of the Iron Curtain. This design is currently available in red, black, white, yellow, and green and is priced at 934€.
A digital print on photographic paper by Costanza gianquinto also caught my eye. Every shot this artist takes represents a moment which lends itself to the story of his mind, an esoteric and symbolic path that enables him to sneak in his perception. In the artist's own words, "I do not take pictures in order to create, I do photography to communicate, to release myself. I seek to express what I imagine in a tangible way, to discover what makes me worried and what trickles down from the scraping walls of my thoughts. There is not reasonable research, neither an obsession or cruelty but only the sweet
tones of aromas and vibes that lay soaking while they wait to be discovered." The untitled print is priced at 750 € and would make a fantastic addition to a private collection.
to" src="https://antiquesdiva.com/wp-content/uploads/2015/11/tumblr_n266jbSUuR1t46597o1_500-300×200.jpg" alt="Venice Salon Recap Untitlet Print " width="300″ height="200″ />
A 1964 fresco on plywood titled, immagine n°509 2b, by artist Gino morandis is another show-stopper. I love the colors and composition of this piece. It is priced at 2500 €.
Dating back to the first half of the 17th century, a pair of miniature Italian portraits of Bianca Cappello and Giovanni di Bianca Cappello added depth to the Salon. These very special enamel on copper portraits of the Florentine School are priced at 4800 €.
I was thrilled to see the work of a friend displayed at the Salon as well. Dutch designer Mariska Meijers is a multi talented artist, boasting her own fabric lines and wallpaper designs. She also paints and offers all of her designs at her showroom in Amsterdam. Perhaps one of the most interesting aspects of the Salon was seeing her stunning Venetian style lamp shade in Bold Cubisn Parisian Pink (298€) atop an antique lamp base (300€). The juxtaposition of the modern shade and the antique lamp seemed to sum up the feeling of the evening. Mixing the past with the present and curating objects from all time periods is the name of the game and Orseola and Chiara have a flair for winning at that game.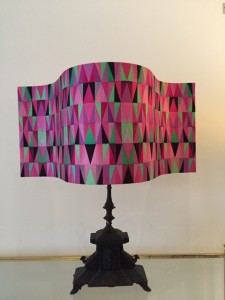 If you'd like more information on any of these pieces or on future Salon events, email us at info@antiquesdiva.com.
The Antiques Diva®