If you're not already familiar with legendary Manhattan-based interior design John Douglas Eason you're going to thank me for this introduction! John Douglas Eason is not only one of the nicest (and most attractive) men I know he's also one of the most sophisticated. If you've visited some of the grandest homes in Greenwich, Connecticut, without a doubt you've encountered John's designs. Some of the best homes in America have John's touch. At the core of John's work lies a sophisticated modern sensibility, tempered by respect for traditional design. This can be seen in his strong, structured interiors saturated with texture and softened with organic forms and unexpected colors. John's deep knowledge of fabrics, finishes, furniture and furnishings, from contemporary to historical, is leveraged in every project. Sourcing at international art and design fairs as well as hidden New York showrooms and secret sources, John brings a wealth of knowledge and resources to every home he designs.
Last week while traveling with John on our special Hamptons Antiques and Design Inspiration Tour (now taking reservations for our July 2018 Antiques Diva® Hamptons Group Tour – private Hamptons tours are available April through October) we were chatting about what a great time we had last year antiquing in Italy. Amidst the antiquing we took an extra day to soak in some design inspiration, visiting one of Milan's best-kept secrets – Villa Necchi Campiglio, formerly a private home, and now a museum open to the public.
to Villa Necchi Campiglio, Italy" width="700″ height="468″ /> Villa Necchi Campiglio, Milan, Italy The villa was built between 1932 and 1935 for the wealthy Lombard industrialist family made up of Angelo Campiglio, his wife Gigina Necchi, and her sister Nedda Necchi. It is situated in a very well-to-do part of Milan and was designed by Italian architect Piero Portaluppi. Both architect and client paid close attention to detail to create a house that would be the backdrop to a life well-lived in Milanese high society.
I asked John to share his design inspiration from our visit to Villa Necchi Campiglio:
My fondest memory of the Villa Necchi Campiglio, other than the company I was traveling with of course, is those fabulous nickel and brass pocket doors leading out to the terrace. I also was captivated by the attention to the details, the intricacy of the that was repeated through the entirety of the house. It was on the pocket doors, the radiators, ceilings & stone floors! There was a most amazing track system for those infamous pocket doors that became seamless as it recessed to the height of the floor when the doors were opened. Recently I posted a photo from our trip of those nickel and brass pocket doors to Instagram and they immediately became one of my most popular IG posts to date. So memorable are they that I don't recall anything from the movie "I Am Love" except for those phenomenal doors. This was the sole purpose that I so willingly tagged along for our group tour just to see a pair of pocket doors, and they did not disappoint. Much to my pleasure the attention to detail that abounds in the remainder of the house does not either!!
Let John's design inspirations inspire you! Follow John on Instagram:  @johndeason.
Watch I Am Love and see if you can spot John's design inspiration!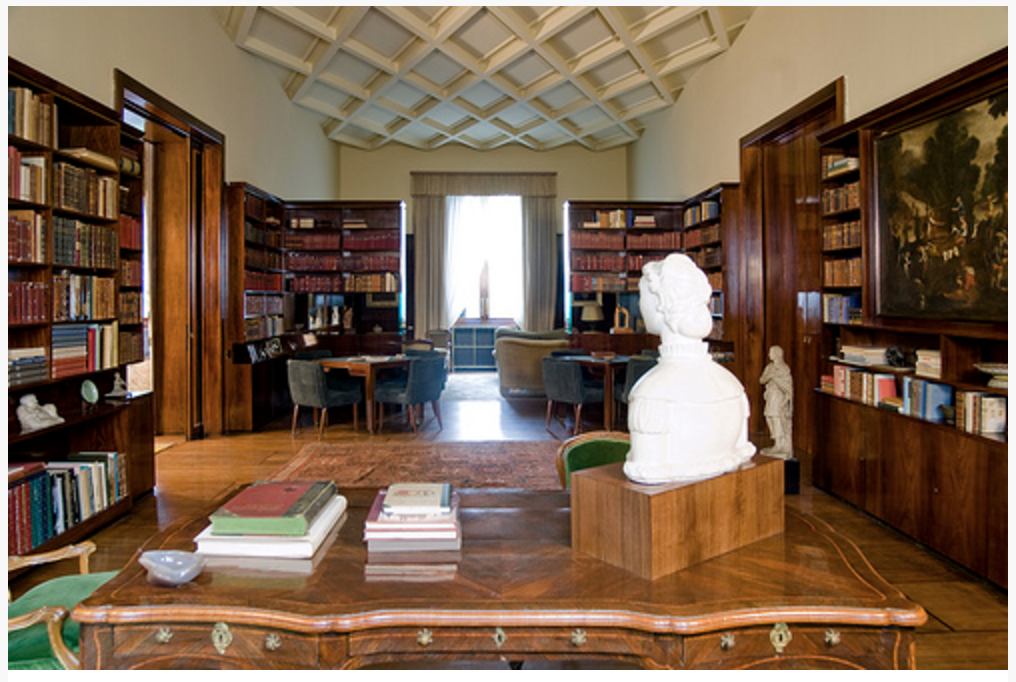 When you're in Milan, you simply must visit this inspirational house museum – it's one of Milan's best-kept secrets – a lesson in architecture and design as it successfully mixes impressive 19th-century style with progressive 20th-century design. Perfection
!
Ciao Bella!
Toma Clark Haines – The Antiques Diva®