If you've ever attended one of my lectures at High Point Market or the D&D geared towards interior designers you'll inevitably have heard me say "The most important tool you can have in your toolbox is a passport."  Mine is battered, covered with baggage tag stickers and filled with page after page of stamps and visas. In my current passport, I have only 10 blank pages remaining. (Note to self: Order Extra Pages). Saint Augustine said, "The world is a book and those who do not travel read only a page." If that's the case, then I've been living a well-read life.
More and more during these last few years, I'm taking time to stop and smell the proverbial roses. As business travel is a regular part of my life the easiest way to do this is adding days onto each trip to bookend a business trip. This last month has had a heavy focus on travel – with my vacation to China followed by a business trip across the USA to High Point, New York, Boston and London.
Often as an individual I've got my eyes set on the horizon looking towards the destination – I sometimes get so busy considering my plan and next steps of action that I forget to celebrate the milestones. 
I dream big.  
And in order to achieve big things – it's necessary to dream bigger than everyone else around you.  
But life is a journey – not a destination. 
As I write, I'm on the train, the Frecciarossa, en route home from Piemonte from Easter weekend with friends. At home on my bedside table is Eckart Tolle's Power of Now – a reminder to simply enjoy the Great Big Right Now. I'm soaking up the moments – and as a result, I am finding more and more inspiration each day. For design. For writing. But also just for day to day life. I'm cooking more. Being more creative in general. I've even pulled out my watercolors which I haven't played with in years.
Design Inspiration can come from anywhere. Often it's my travels that inspire me, sometimes it's an everyday object that I see in a new way, people I meet and places I go that weave themselves into my soul. When my friend Alessandro told me he was moving to China he gave me Andrea di Robilant's book Autumn in Venice: Ernest Hemingway and his Last Muse. He told me the title was important, "Hemingway because you were an English literature major in uni. Last Autumn because it's my last autumn before I move. And Venice IS your muse."
He was right. Moving here has inspired me. Venice is an obvious choice for inspiration – but inspiration can come from the most unexpected places. Those who follow me on Instagram were fascinated when they learned that the leather on my Roccoco-style bench in my Antiques Diva Furniture Collection by Aidan Gray was inspired by the designo leather in my Mercedes SUV.
Last week I was struck with Global Design Inspiration while visiting friends in England at the end of a business trip. The entire world was brought to me in one destination. Ascott House is a palace-like Jacobean black and white timbered cottage that was the creation of Leopold de Rothschild and architect George Devey. It's a quintessentially English Country House with exquisite English antiques standing alongside Dutch and Flemish masterworks and fine French furniture and art. I nearly ran into a Rodin as I stepped backward in the Billards Room turned Library.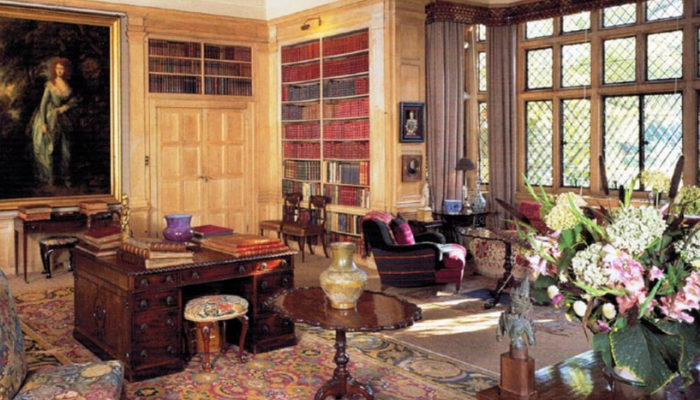 In the library I looked around – the room was beyond cozy – but something felt different. It was more casual than one would have expected a formal library. (The photo above makes the space look much more formal than in real life). When I commented on the unusually light color of the wooden library shelves the docent confessed, "though it's now a National Trust estate the family still uses the property – and they stripped the wood to make the room more airy." Bingo! I suddenly realized why I loved the house so much. That was the difference. While it is a museum – it's still a family home part of the year.  
It's the perfect example of how to live with antiques.    
But not just any antiques – Ascott House could be the pictorial definition of the word wanderlust. It's layered with generation after generation of antiques, textiles and embroideries from the Grand Tour and the Silk Road. The Silk Road was the ancient network of trade routes that connected the East with the West. It meandered along the northern borders of China, India, and Persia and wove through Turkey, Eastern Europe and the Mediterranean Sea. It was important because it helped to generate trade and commerce between a number of different kingdoms and empires but trade was not the only purpose of the Silk Road. Just as on the Grand Tour young men and women learned the most important developments in language, arts, court etiquette, legal and political systems, science and culture, the Silk Road was also about the exchange of ideas.
The more we travel, the more we open our minds.  
In a conversation recently with a television producer, I was told that Americans don't want to see TV shows filmed abroad. "How can  you travel the world through antiques if you're not interested in the travel aspect?" I wondered. It seemed incomprehensible. Was the producer telling me the entire American viewing audience had Xenophobia – the fear of foreign places? I've made a career out of making both international antiques and foreign places accessible – I've been called the Anthony Bourdain of antiques – that girl who travels the world uncovering lesser-known places and exploring their cultures and antiques – then sharing my #Divascoveries with my followers.
As humans – as humanity – we grow when we're connected with people and places outside of ourselves. We are all connected. What happens in one part of the world, impacts another. Have you heard of the Butterfly Effect?  The theory is based upon an idea if you track the path of a hurricane from its inception, you'd see that it was all caused by a change in air pressure caused from the flap of a butterfly's wings three weeks prior and halfway across the world. The Silk Roads network of connecting pathways changed history because the people who traveled along part or all of the Silk Road planted their cultures like seeds carried to distant lands.
Bringing your travels home has long been a tradition in interior design. A classic English Country House simply wouldn't be an English Country House without its global influence – seeds plucked from faraway places and transplanted at home.  
Ascott House exemplifies the East Meets West decorating vibe. My favorite room is the living room where you'll find Ikat silk chapans from Uzbekistan repurposed into Roman Shades. Someone painstakingly de-assembled vintage robes and hand-stitched the fabric together to form patchwork, and then used the patchwork to make the fabric for the blinds. In one corner of the curtain, you can see still see the vague outline of the sleeve of an arm. The whole setting is very Robert Kime – one of my favorite London Interior Designers known for his elaborate use of antique textiles, creating what 1st Dibs calls, "comfortable classically English Rooms that his clients – including Prince Charles – say they never want to leave."  
I found myself thinking about travel, collecting and interior design as I toured Ascott House. What is it that makes us desire to see far away places and to bring a piece of it home? Is it a Napoleonic desire to conquest? A holdover from the caveman days of hunting and gathering? Why do we collect? Is it merely a means to give meaning to our lives – making an emotional connection to a period, place or time? Or does it have deeper meaning? 
As Ascott House caused me to contemplate my own travel I thought about how antiquing abroad has influenced me over the years. The Antiques Diva started because I was traveling the world. Some people buy a t-shirt on holiday. I buy antiques as my souvenir because that's what interests me. The French word souvenir means memories, and for me – that's what I am doing when I antique abroad. I buy memories. 
Traveling and antiques have always been intertwined in my mind. As a child, I remember family dinners when my mother pulled out the antique silver that my grandparents brought over with them on the boat from England to America. This cutlery represented not only my family's heritage but faraway places that influenced how we lived. I saw antiques as a way to be transported to other times and other places.
While traveling in China last month one of my favorite moments was in Kaifeng, the 11th Century Song dynasty capital. My friend and I had stumbled into an antiques and artisans two-story gallery that was partially abandoned. Antique furniture, fragments and tools were propped against walls, while porcelain and lacquerware filled the shelves. Men gathered at card tables played mahjong near their stalls. One of the things I Iike about antiques is that antiques unite us. When you go antiquing, people with different backgrounds, interests and passions collide. Each person can find something that speaks to their soul. My friend Alessandro is a physicist and etno-mathematician. On a purely surface level, we couldn't be more different if we tried. I lost track of him while we were browsing the stalls and at a certain point, I rounded the corner and saw him bent over a box smiling from ear to ear. He looked up and showed me what he'd found – an antique abacus, a Chinese counting tool. Ironically, he was the one who bought antiques that day – not me.
Meanwhile while touring this gallery I was introduced to something new. I'd become obsessed with the Chinese traditional painting. In the gallery nearly 2 dozen artists had ateliers and you could watch them dip their brushes into black ink or water-based color pigments, creating patterns on paper or silk using traditional themes, materials and techniques. Watching the artist paint felt like peeking through the window into the soul of the country. Guóhua, as traditional Chinese painting is called, is one of the three pillars of Chinese culture (the others being medicine and opera.) Chinese painters tend to learn their craft by copying earlier masters in order to build their foundation.
To understand the past is to understand the future. 
Elizabeth Hammer, Head of Sales of Chinese Classical and Modern Paintings at Christie's New York explains that "the most prized Chinese traditional paintings are those that reveal the artist's personality and character. It is believed that an evil person cannot make a fine work of art. To really understand an artist's works, it helps to learn his or her biography, and about the times in which the artist lived."
Last year during the Architectural Biennale in Venice I met the team from Chanel who were documenting Coco's life, travels and inspirations for Chanel's in-house archives. "We need to see what she saw, be influenced by her influences, to design a brand that stays according to her vision." Once you've traveled, that knowledge of a country, it's people, traditions and architecture, their decorative arts and their environment, the natural world – the subtle sense of a place – will continue to inform you.  Hemingway said, "If you are lucky enough to have lived in Paris as a young man, then wherever you go for the rest of your life it stays with you, for Paris is a moveable feast."  
But it's not just Paris that's a moveable feast – all your travels – your adventures – are your personal progressive dinner.    
For me, while visiting Ascott House my olfactory memory went straight to the Silk Road. Having just been in China last month, my jaw dropped when I walked into Ascott House's Porcelain Room filled with turquoise and purple-glazed ceramics from the mid to late Ming dynasty (1368-1644) displayed in specially designed bamboo cabinets. The collection was formed by Anthony de Rothschild when he used a buying agent (the 1920's equivalent of an Antiques Diva Guide) to help him source pieces that suited his tastes. 
In the end – that's what it all comes down to. Taste. Buy what you love.  Whether you're an antique dealer, interior designer, or a private antique buyer – that is the best advice I can give you. Buy what you love. As Elizabeth Hammer of Christie's explains, "Follow your instinct when collecting and buy something that delights you."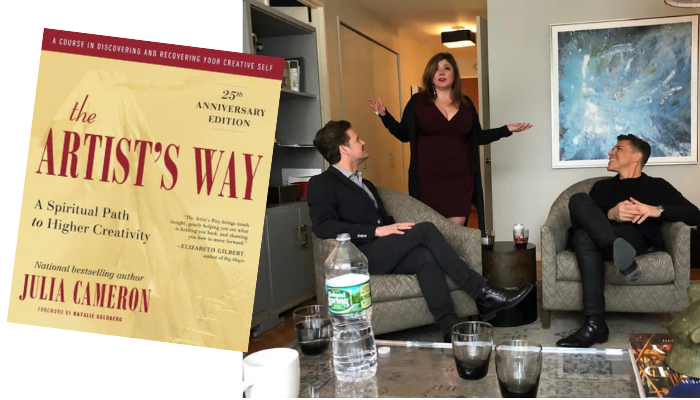 As I close I challenge you:
Go someplace new.  Do something new. Maybe you can't go to Uzbekistan this week – but you can seek out an Uzbek restaurant. Take yourself on an Artist Date. Last month in New York City we did our first ever Antiques Dealer Training Workshop. Interior designers Justin Shaulis and Robert Passal joined us as guest speakers for a break-out session, advising our attendees on How Antique Dealers Should Work With Interior Designers. While closing, Robert told a personal story of his own career and how he became an interior designer after he read Julia Cameron's book The Artist Way – a book that also inspired me to launch The Antiques Diva & Co. In her book, Cameron advises each week to take an Artist Date. Make time for yourself – on your own – to do something enchanting. Expose yourself to new places and new ideas. Where will you go on an Artist Date this week?
To Book Your Antiques Diva Tour in 16 Countries
or inquire about our new Training Program for Antique Dealers email toma@antiquesdiva.com 
Happy Wandering,
Toma – The Antiques Diva