While taking my summer vacation in the Amalfi Coast this summer one of my favorite things I did – besides merely lounge poolside in my BoxerinBlue swimwear under the wafting smell of the lemon trees – was visit the Ruins of Pompeii, which I talked about in a recent blog post when I announced my furniture collection – The Antiques Diva Collection by Aidan Gray.
Pompeii continues to fascinate – Mount Vesuvius had erupted in a phenomenal fashion straight off a Hollywood movie script – perfectly preserving the ancient town of Pompeii and the surrounding countryside in ash. The result – while devastating at the time, burying the people alive – did preserve the works of arts for centuries allowing us to see frescoes from the time of Jesus. (Segway from religion to sex… ) While the frescoes in the brothels were… uhm… especially interesting… what continues to fascinate me is the lush decadent lifestyles they lived in ancient Roman times. When I think of 2000 years ago, I imagine people walking around barefoot and yet in Pompeii the rich were living in villas I'd be happy to call home today.
Pompeii was to Rome like the Hamptons are to New York. And these villas surely must have been where the profession of interior designer came about. The wealthy employed sculptors and painters and other artisans to create an atmosphere that reinforced their position in society. In addition to proper sewage, they had gyms and swimming pools, libraries and courtyards with gorgeous mosaics… but for me… it's all about the frescoes. The villas were painted ceiling to floor with motifs that were anything from actual images of other villas to architectural elements such as porticos or even cards, rivers and coastlines as well trees, fruits, flowers, birds…  But my favorite room, a kitchen in one of the villas, reminded me of my own home. The walls of the kitchen were painted with swimming fish found in the sea nearby.
At my home in Venice, I live in a small apartment a stone's throw from the Peggy Guggenheim Museum, on a side canal just off the Grand Canal. Soon after I got an apartment here I found myself dreaming of water – which apparently is a trait of Venetians. Water is as much a part of daily life in Venice as is air and breathing. Meanwhile fish swim in the canals outside my kitchen window, they are served in every restaurant and I even have pet goldfish (Frank Sinatra Jr and Frank Jr Jr – fans of the TV series Friends will catch the joke in the name of the later). Wanting to connect the interior of my apartment to my surroundings, I decided to commission the artisans from Porte Italia to come and paint fish swimming down my entry hall. I chose to do the entire entrance in a dramatic high gloss black paint – painting the ceiling as well as walls which makes the space feel infinitely larger.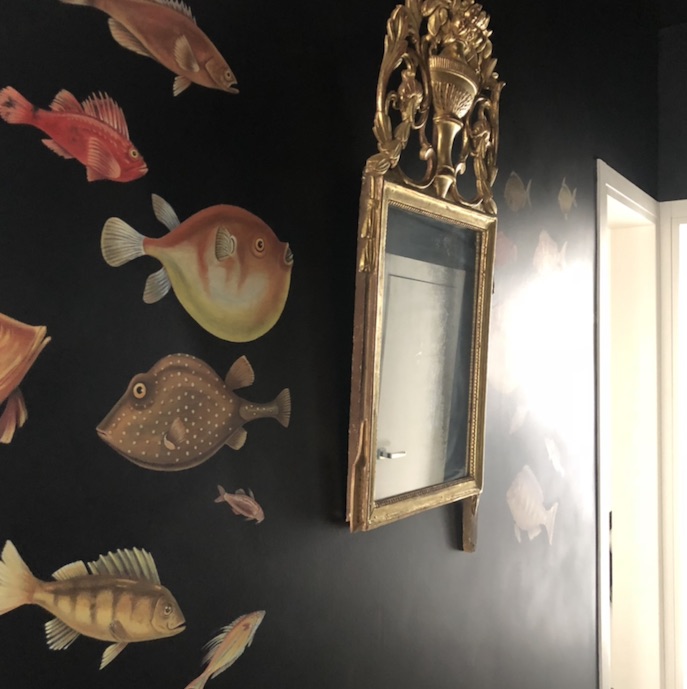 A fan of Fornasetti, I had the artisans nod towards Piero's style. The fish swim towards a reflection pool in the middle – aka, an 18th C Gilded Mirror with the original mottled and melting mercury glass. The mirrors frame design is straight out of a fresco design in Pompeii, a basket overflowing with pomegranates and roses. This mirror created most likely between Louis 15 and Louis 16 reign reflects the notion we discussed in a recent blog – where does design inspiration come from? Everything we see and feel and do, influence who we are and our design aesthetic. Louis 16th furniture makers were heavily influenced by Pompeii, just as I was heavily influenced by Louis 15 and 16th when designing my furniture collection – The Antiques Diva Collection for Aidan Gray, which debuts this week at High Point Market.
Be Inspired 
Fall 2018 High Point Market I'm speaking on 2 panels that broach the subject of Design Inspiration. I'll be Facebook Living both events – so don't worry if you're not able to be there in person, know you can always catch it online on my personal page Toma Clark Haines.
Inspiration Behind the Designs – Saturday October 13 2-3pm
Surya Showplace 4100

Join interior and product designers Mary Douglas Drysdale, Michel Smith Boyd, Toma Clark Haines ("The Antiques Diva"), Xander Noori, and Keon Khajavi-Noori as they discuss where they seek inspiration, how they overcome the dreaded creative block, and give tips and tools for recharging your creative batteries.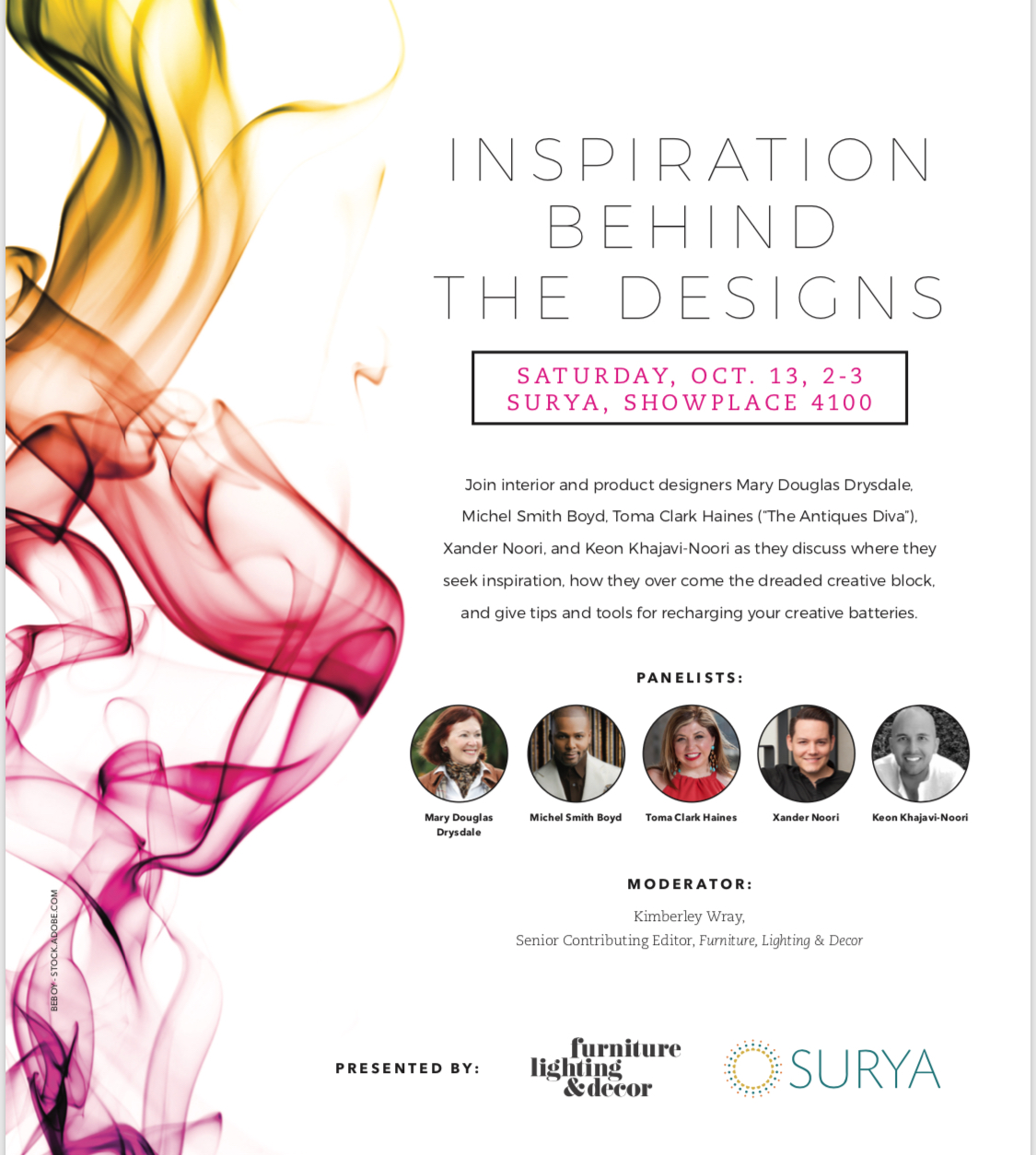 Designing Women of the World – Sunday October 14 1.30 to 2.30pm
Suites at Market Square Seminar Room SAMS T 1014

How do you prioritize travel as a busy designer and business owner? How do you prepare for design inspiration at a particular destination? How does getting outside of your local marketplace help your business? Join our traveled designers as they discuss these questions and many more, while giving tips and inspiration on how to incorporate travel into your design process. Panelists include Adriana Hoyos, Tina Nicole, Toma Clark Haines, Sandra Espinet, and Aviva Stanoff with Deb Barrett as moderator. Reception and book signings to follow.
Until then, Be Inspired.
Toma Clark Haines – The Antiques Diva®