Dear Diva Readers,
Celebrating New Year's Eve – wearing my fascinator "The Clock Strikes 12"
top: 5px; float: left; color: white; background: #781300; border: 1px solid darkkhaki; font-size: 80px; line-height: 70px; padding-top: 1px; padding-right: 5px; font-family: times;">It was only 6 1/2 months ago that 2011 gave way to 2012 and my life has been a whirlwind ever since.  On New Year's Eve a storm brewed – the skies darkened and torrential winds whipped through the night – and as the clock struck 12 I mused, "perhaps all this electricity in the air is prophetic… an indication of what the new year has in store."    Today it's June 11th and as I write I breathe a deep sigh, finally for the first time in 6 months stopping to catch my breath.  I've been on non-stop go, accelerating, whirling and twirling in Antiques Diva-land!
On an Antiques Tour at the Flea Market in Berlin – Photo Credit Laila McCubbin Jones
My tours/ " target="_blank">antique shopping tour business has blossomed but with the bloom there has been growing pains which have left me burning the candle at both ends as I've been left to deal with an ever mounting pile of paperwork. Last month I took steps towards solving this problem by hiring office administration to help my staff of Antiques Diva Guides & I, but in the meantime my blog has taken the brunt of the burn out from the work load, being the thing I set aside as day to day obligations took precedence.  I've not had the time to blog as much as I normally do – and I find I miss you guys!!!
Hard at work at Diva Headquarters – Photo Credit Laila McCubbin Jones
Today, as I write, it's my way of coming back to you to tell you a bit about my year so far and what's been keeping me so otherwise engaged.  Those of you who follow me on Facebook  & Twitter have seen the maddened pace of tours/" target="_blank">Antiques Diva Tours I've been on as I share tos " target="_blank">daily photos of our company tours and treasures.  But for those of you who aren't following me on social media you might have missed the joyful madness!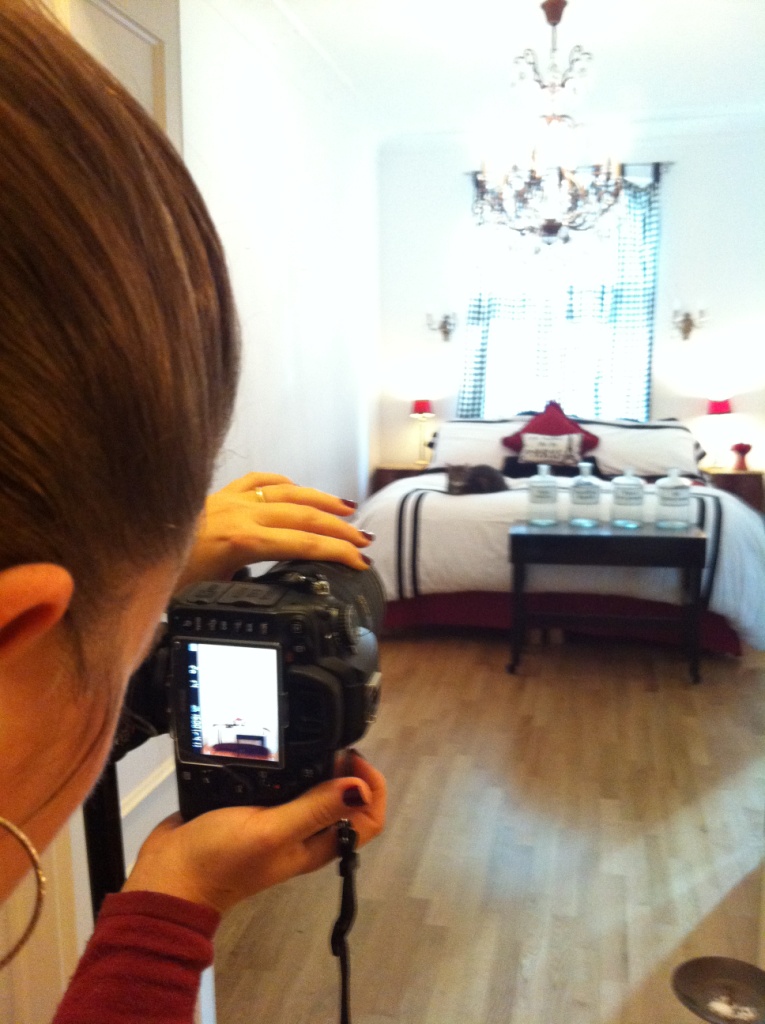 toshoot – Antiques Diva" width="459″ height="614″ />
Behind the scenes Global Living Photoshoot, snapping a picture of Photographer Laila McCubbin Jones hard at work
As soon as I returned home from celebrating Christmas in the United States I immediately went to work on preparing my house for the Global Living photoshoot.  Imagine my joy when I discovered they decided to feature my home on the cover of their Premier issue.  After doing the behind the scenes work with photographer Laila McCubbin Jones for that feature and another in Belle Inspiration, I left for Belgium to help New York Times T magazine with a feature they were doing.  In between these press calls I was taking some extended tours in Belgium, France and England with tours/trade-only-tours-coming-soon/" target="_blank">To The Trade buyers as I helped antiques dealers and interior designers stock their stores. 
Photo courtesy of Vogue Meeting Florence and Enjoying a delightful morning in Paris Fashion Week with Lynn Yaeger – Elizabeth Lippmann ­ 
Next up it was Fashion Week in Paris which meant a party with Vogue – Fashionista's at the Fleas!  And then it was on the road again to Bath, England for my new favorite fair – The Bath Decorative and Antiques Fair.  You know how much I love La Foire National a la Brocante et Jambon?  Well this one in Bath has as good of inventory as Chatou but with better prices and it is now vying for the title of best brocante ever!
Spending the day at the Bath Decorative and Antiques Fair – Natasha Goodfellow, Homes & Antiques, Judith Miller, Mark Hill, Gail McCleod, Kirstie Allsopp, Angela Linforth, editor Homes & Antiques
While in England for the fair, I had the opportunity to do a press tour around the fair chatting with vendors alongside BBC stars Kirstie Allsopp & Mark Hill as well the famous maven of antiques Judith Miller.  I even had the opportunity to chat with Nigel Worboys of Antiques Are Green and George Johnson all thanks to the amazing introductions of Gail McLeod, who not only happens to be my Diva Agent in England but also owner of Antiques News & Fairs and one of the most connected women in antiques in the UK!   After attending the Bath Decorative & Antiques Fair, there was a party hosted by Homes & Antiques magazine  – the official magazine of The Antiques Roadshow  – to celebrate The Best of Britain competition.  At the fair the antique award winners were announced and a champagne fete was thrown in their honor.
With Cathy Barrow of Charcutepalooza in Paris at the National Fair of the Flea Market and Ham

March Madness literally had me on the road the entire month from day 1 to day 31!  While in the UK I had the opportunity to stay in both The Manor House and The Royal Crescent – luxury hotel experiences you'll be reading more about this summer both on my blog and in a couple of publications I write for.  Then I bid adieu to England and said Bonjour to Paris yet again as I helped Charcutepalooza with their Grand Prize Giveaway, taking winner Peter Barrett of A Cook Blog on an antiques tour and then co-hosting alongside Cathy Barrows of Charcutepalooza and Jack Dancy of Truffle Pig a Parisian Blogger fete before bagging it for Belgium this time to take a group on tour. 
With The American Women of Surry Club on a SAT TRAVEL/Antiques Diva tour in Belgium
While the majority of our tours are private individuals, SAT TRAVEL organized a group trip with me bringing The America Women of Surry to Belgium for a fantastic 4 day shopping fete!   My three favorite vendors in Belgium took the time to do special events and parties with the group – and I want to give special thanks to Kurt and Aida of Antwerp Antiques Center, to Anne Marie of Antiques L'Histoire and Karine of Antiek's by Karine!  
tour">
tour_nyc_250.png" alt="BlogTour 2012″ width="250″ height="228″ />
Next off – it was up, up, up and away for two sensational weeks in New York City as I was chosen as one of a dozen or so bloggers from around the world to participate in tour " target="_blank">#BlogTourNYC – a week-long celebration of design in the Big Apple coordinated by the tireless team at Modenus.  Veronika Miller and Tim Bogan have my absolute awe and admiration for the amazing tour they coordinated.
Look at the maniacal look in my eye as I learn to shoot a bow & arrow alongside some new friends from Samuel Heath a quintessentially English company who design and manufacture high quality faucets, showers and bathroom accessories
I still have a slew of blog posts to write about all the amazing things we saw  – so stay tuned for me telling you about learning to shoot a bow and arrow inside an art gallery in Soho alongside the team of Samuel Heath or hobnobbing at the D&D Building.  Spending time in NYC it was also a pleasure to meet Nicole of BKLN CONTESSA, Stacey of Quintessence and Tamara of Nest, Nest, Nest as well as getting to spend time with my dear friend Saxon Henry of Adroit (who threw a party in her Brooklyn loft in my honor) and to go vintage fashion shopping with Lynn Yaeger (stay tuned as this is another article soon to be released!)
to-credit-toma-haines.jpg">
to credit toma haines" src="https://antiquesdiva.com/wp-content/uploads/2012/06/berlin-brandenburg-gate-photo-credit-toma-haines-1024×768.jpg" alt="" width="614″ height="461″ />
Back home in Berlin
Returning home to Berlin from the city that never sleeps left me a tad tired… but there's no sleep for the weary.  Tours in Paris, Antwerp, Amsterdam and Berlin beckoned.  It was particularly an honor to help Haupt Antiek with their Central and Eastern European tour, leading a group tour in Berlin as well as hosting a party at my home in Berlin for their group of dealers coming abroad to buy for the Haupt Antiek Market – one of the top 25 flea markets in America.
Meanwhile my first article in Homes & Antiques magazine hit the stand – Vintiquing in Antwerp – and was followed quickly by another article I wrote for them on Vintiquing in Berlin.    Flea Market Décor magazine  gave The Antiques Diva & Co a shout out in their International Flea Markets article.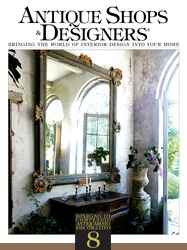 Antique Shops & Designers magazine hit the newsstands featuring not only an article about my tours but also an article by me on a luxury shopping experience I had antiques shopping at Axel Vervoordt's private residence – his castle nearby Antwerp.  They even used as their magazine cover one of the photos I took while on an Antiques Diva Tour!
Shopping at Smeden og Journalisten – one of my favorite shops in Scandinavia 
And while all this was going on, I was laying the ground work for the expansion of my company into 2 new countries with tours/craft-tours/ " target="_blank">our first ever Scandinavia Tour in Sweden & Demark. This brings our roster of countries where The Antiques Diva & Co operates to 8 countries – including also France, Belgium, England, Italy, Holland and Germany. 
I couldn't have done this without the amazing help of an amazing team of professional stylista's! Special thanks to Diva Guides – Gail, Jennifer, Danielle, Kim, Susan, Lucretia and the designer of our custom-made Diva Bags, Di Venter of Made by Di!
Just writing about the last few months has me exhausted and exhilarated – there are so many wonderful things going on at Antiques Diva headquarters.  I truly love my job and am blessed to have the opportunity to pursue my passion as my career!  Sorry to have been away from my blog for so long – I've missed you!
Yours Truly,
The Antiques Diva®