Antiquing in Parma at Italy's Premier Antiques Fair 
Fancy meeting up with a group of fabulous designers, delightful dealers, (antique dealers, of course), magazine creatives, gracious guides, and one Diva extraordinaire to #shopeatplay in Italy for five days. Well, that's exactly what Laurent and I did last month during Mercanteinfiera, Italy's largest antiques fair held in the historic and gastronomic city of Parma, Italy, famous for its Renaissance and Romanesque architecture and prosciutto, parmigiano cheese and Lambruscu. 
Twice a year, Toma Clark Haines, the Antiques Diva, and her Diva Guides take a VIP group of mostly interior designers and antique dealers on a trip that can only be described as an "antiques lovefest" because not only did we fall in love with the beautiful Italian antiques we saw, but we also fell in love with the people and places of Italy as well as everyone in our group. (While The Antiques Diva & Co NORMALLY only does one on one customized antique buying tours, a few times a year they work with 3rd parties to put together special VIP Group Tours; Mercanteinfiera is one such occassion.  We were lucky enough to be part of that group!) What we thought would be a "look see" turned into an outright buying trip filled with more food, fun and friends than we could have ever imagined! 
buy directly off the trucks as dealers
were unloading and setting up
The nine-day shopping extravaganza, which attracted more than 50,000 purveyors of antiques and designer finds from around the world, opened to the public on February 25th, but as VIP guests of the AD&CO we were fortunate enough to have early access during the pre-trade and trade days. This allowed us the ability to buy directly off the trucks as dealers were unloading and setting up. It was a bit crazy with everyone heading in different directions, dodging doggies and dollies (the furniture moving kind), but it provided us first dibs on the crème de la crème of Italian antiques and wares of over 1000 dealers. 
Dealers are set up in five different pavilions selling a mixture of styles and periods of antiques and vintage furniture, jewelry and fashions, lighting (lots of lighting), art and accessories. Because Toma was in full-on Diva mode and making history in London at the House of Lords with the first ever Facebook Live post at the Houses of Parliament while speaking at the 9th Annual LAPADA Conference, she wasn't able to join us the first day. We were in very capable hands, though. Her amazing Diva Guides, Orseola Barozzi Rizzo and Chiara Zanella, took charge and managed to navigate our large group through the multitudes of shoppers. They made sure that we each found what we were looking for, whether it was an 18th century Baroque Italian painted cassapanca or the nearest ATM. They also made sure we could communicate properly. Everyone in our group was from the South, and we could all be heard asking "quanto costa?" in our best southern accents!
A Few Vendor Booths at Mercanteinfiera 
Our Goal: A Large Monastery Table
Since Laurent and I had one goal in mind, to find a large monastery table, we were thrilled to find not one but two 18th century tables almost immediately – and decided we best take them before someone else did. One table was fourteen feet and the other was twelve feet – hard-to-find sizes, at reasonable prices and both in excellent condition. We had already arranged to have our "collector" there just in case, so we immediately called him and let him know we had made our first purchase of the day. He would be collecting any items we purchased and taking them to our warehouse in Nantes, France. When Laurent goes to France in April to make a container, he'll add the pieces from Italy with what he buys in France to be shipped back to our shop in Birmingham, Alabama.
About Laurent
A few things you need to know about Laurent. He's been importing antiques for 25 years and has his own sources and does his own containers, usually four to five a year. So he was really reluctant about buying anything during this trip. He thought everything would be way over priced, and many things were because it's a very high-end trade show, but once we started shopping, we realized what a wonderful opportunity we had been given.
even established antique dealers, set in their ways,
can really benefit from one of AD&CO's many tours
In the two days that we attended Mercanteinfiera, we were able to purchase some incredible Italian antiques and were also able to find sources and make contacts that we will use in the future. Without the AD&CO, none of this would have been possible! We can't thank them enough! It just goes to show even established antique dealers, set in their ways, can really benefit from one of AD&CO's many tours. We plan on taking another tour in either Belgium or Sweden as soon as we can. Time is precious. And the time saved having Diva Guides with us to make introductions, translate and negotiate when necessary, and take care of the small details (like reading a menu) made all the difference in the world. Our imaginations could not have dreamed up anything more perfect. The energy, creativity, ingenuity, experience and the professional and personal attentiveness shown to us by Toma and her Diva Guides made this buying trip a truly magical journey.
Ciao,
Mimi
---
French Christmas Traditions
I love Christmas! It is the most wonderful time of the year! A magical time of twinkling lights and tinsel trees, lords a-leaping and ladies dancing. A time to splurge on fine wines and feasts with friends and family. It's also a time of year steeped in traditions that have been passed down through the generations – holiday traditions that bring back childhood memories of popcorn strands, paper chains, colored lights and a shiny tin foil star atop the tree; of eight tiny reindeer and a song about dancing merrily.
My holiday traditions encompass much more now, however. Just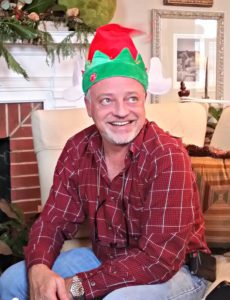 as Santa takes on many shapes, many sizes, Christmas traditions do also, varying from family to family and country to country. You won't find an "elf on the shelf" wreaking havoc on our household and our stockings are still hung by the fire, but with our own jolly French elf… uh, I mean cook… in the family, we do indulge in a little more food and fun. From foie gras and the Bûche de Noël to French santons and the nativity scene, this Southern family has added some à la française to our pa-rum pum-pum-pum.
In France, Advent is usually ushered in with the opening of the Christmas markets. French towns and villages light up, vin chaud flows freely and the merriment begins. Christmas in France is a grand and joyful time, with celebrations focused on the birth of Jesus, family, friends, and food, of course.
French culinary customs have a tendency to be over the top, and Christmas is no exception. There's nothing like celebrating with friends and family around the dinner table after the Christmas Eve service until the wee hours of the morning. With only five days until Christmas, I'm sharing five Gallic traditions that will have you and yours dreaming of a French Christmas. Try a few…
Postcards from Père Noël
Each year in late November, children around the world begin sending their Christmas wish lists to Père Noël by way of a postal office in the small French village of Libourne. About 60 volunteer La Poste "elves" sort through and reply to every letter – over 1 million from 140 different countries. Santa's first official response was in 1962 when Le Sécretariat du Père Noël was started by the Ministère des Postes et des Télégraphes. For more than 50 years, letters addressed to "Père Noël, France" have been answered. Postal officials say this French station probably gets more letters than any other country because it's the oldest of its kind. The operation costs an estimated $1.4 million each year.
Shoes by the Fire
French children don't hang stockings by the fire on Christmas Eve. Instead, they leave their shoes or slippers by the fireplace, filled with hay and carrots for Père Noël's donkey to eat. Père Noël takes the hay and carrots and refills the shoes with small presents, candies, fruits and nuts for children to find Christmas morning.
Three Kings Day 
The people of France gather together on January 6th each year to celebrate the day the Three Wise Men or Magi visited baby Jesus in Bethlehem. They mark the end of the holiday season much like they do all celebrations – they chow down on food that's fit for a king. A traditional galette des rois (Three Kings cake) is offered as a gift during the feast of the Epiphany, also known as La Fête des Rois or Three Kings Day. Inside the cake is a small object or bean, known as a féve. The person who discovers the hidden féve is declared King for a day and wears a gold paper crown.

Le Réveillon de Noël 
Le Réveillon de Noël is the traditional late night feast held to réveiller or wake up again once families return from la Messe de Minuit (Midnight Mass) on Christmas Eve. While the menu varies from region to region, delicacies including oysters, lobster, foie gras, escargot and a turkey or goose stuffed with chestnuts are common. Dessert always includes la Bûche de Noël.
55 French Santons
La crèche de Noël (the nativity scene) is very popular in France. It's usually displayed from the first Sunday of Advent until February 2nd, the date of the presentation of Jesus at the Temple, known as la Chandeleur (Crêpe Day). During the French Revolution, public nativity scenes were prohibited so small figurines called santons (little saints) were created in Provence for display in the home. The Provençal crèche includes the Holy Family, shepherds, animals, angels and Three Wise Men, as well as bouchers (butchers) boulangers (bakers) and various other village people – for a total of 55 characters – all waiting to welcome Baby Jesus, who isn't added until midnight on Christmas Eve.
The countdown is on! As you finish decking the halls, wrapping the gifts and making the menu, there's still time to add some French cheer to your home this year. You can read about more French Christmas traditions on our home page. Be sure to let us know if your holiday plans include any Francophile festivities. But wherever you are and however you're celebrating….
Joyeux Noël,
Mimi
---
Identifying French Furniture Periods
If there's one thing I've learned since falling hopelessly in love with an adorable Frenchman it's that French people definitely appreciate the finer things in life. They're famous for l'art de vivre. From fine wine to fine furniture, from the Eiffel Tower to the fields of Provence, the people of France surround themselves with art and furniture that spans hundreds of years of impeccable style.
The task of identifying French furniture that's often two hundred years old can be daunting though. How do you tell a Louis XV buffet from an Empire buffet? What's the difference between a period piece and a style piece? There's so much to learn. But you don't need a Ph.D in Art History to grasp the basics. I'm making everything easy for you. Our Timeline of French Furniture Periods takes away the guesswork. From the French Renaissance to les Années Folles, you'll learn how to identify the styles you love best by following Louis — our Frenchie (which you'll see a lot), on a trip through time as we look at the various French furniture periods and the primary motifs and elements of design for each.
What's most important to remember when trying to decipher who's who and what's what is that the periods in French furniture design follow the time periods associated directly with the reign of a particular king, politician or military leader. While each king's style differentiated his reign from the others, there's much overlapping of styles. Take the acanthus leaf for instance, it's used in almost every period, the swirls and curls just vary.
The difference from one monarch's style to another is usually only a matter of a few degrees of decadence, with a couple of transitional styles thrown in between for good measure. When a piece was actually crafted during a particular king's reign, Louis XV for example, it's identified as a Louis XV buffet or a period buffet. It will often have the stamp of a known ébéniste and will be more valuable than a style piece, which has the style motifs typical of the Louis XV period, but was made at a time after the Beloved's reign — then it's referred to as a buffet in the style of Louis XV or a Louis XV style buffet.
For nearly two centuries, the House of Bourbon ruled not only the courts of France, but also its worlds of fashion and decor. The "Fab Four," Louis XIII, XIV, XV and XVI, had a huge influence on the arts and design. These four famous kings introduced French society to music, art, fashion and furnishings. Louis XV style is the epitome of French furniture at its finest. The period is regarded by many as the Golden Age of French furniture, a period of grand creativity, influenced by scandal and royal mistresses like Madame de Pompadour and Madame du Barry. It was all about comfort in the 18th century and Louis XV style was designed for the comfort and glorification of beautiful women. The classically French bergère was introduced. This cushy armchair has stood the test of time and blends stylishly into the most contemporary of rooms.
But French furniture lost its position of dominance with the execution of Louis XVI and The French Revolution, making the early 19th century the last great period in French furniture making.
Whether you mix it up with the delectable designs of different periods or let one style dominate your decor, what's your favorite? Let us know about the styles you love best.
À Bientôt!
Mimi
---