Hey Diva Readers,
As I write from Venice, Carnevale is taking place outside my window. The calles are filled with men and ladies dressed in carnival gear strolling alongside canals. The most popular place to finish one's stroll is of course Caffè Florian on the Piazza San Marco. The theme of this year's Carnevale is "Remember the Future" – taken from Salvador Dali's quote "I prefer to remember the future."  As we come out of this pandemic, and life starts to have a semblance of familiarity, I think about how much closer we are to these memories. In the last quarter of this newsletter, I share a list of upcoming antique fairs in Europe where we'll be taking clients on real life antique buying tours (and continuing our virtual services). I think this new world – in which we will be living post-pandemic will be like this – with a foot in each world, virtual and reality intertwined. To quote an old Arby's commercial from my childhood…"Different is better."  The opportunity we have now is to choose the best from the last two years to take with us as we return to the future lives we all long to live.  A lot of what we've shared virtually and digitally as a company has changed the way we do business at The Antiques Diva & Co – and our Instagram lives, virtual buying tours and podcasts will continue. 

I've been talking…have you been listening? Listening to my podcast – that is! Each week on The Business of Antiques Podcast, I interview guests who share a wealth of information on how to become an antiques dealer and how to run an antiques store.
Eve Oliver – PR & Marketing Manager for IACF organizers of premium antiques fairs in the UK including Newark, Ardingly and Shepton Mallet – writes "I've been listening to your podcast and it's incredible! I can't get enough of it! I'm low-key obsessed at the moment!!!!"

Carson Kressley – of Rupal's Drag Race and ORIGINAL Queer Eye for the Straight Guy kicked off the New Year on the Business of Antiques podcast by talking about his love for antiquing while traveling abroad.
Meanwhile, James Gooch joins us from England's own Doe & Hope, as we explain how antique dealers can be cool hunters, Rich Shell talks about his new concept store in Colorado Springs – Evan Guy, and I personally share my END OF YEAR REVIEW. Here's a pro hint…this end of year review works anytime you want to re-evaluate when you are in building a life and business you love. Your New Year – New Business – New You – can start today. My favorite episode is EPISODE 10 of Season 2 – You and Me – Me and You – where I debut my singing career (spoiler alert: I sing off key), as I tell you all about HOW we at The Antiques Diva help Antique Dealers increase their profit margin through sourcing, business coaching & development, antique dealer training, marketing services and website development. 

As a Business Coach for Antique Dealers, I've learned that one of the most important things I do is help antique dealers determine, define, and execute their strategy to achieve the goal of building an antiques business that supports the way they want to live their lives.
As we kick off 2022, I repeat this question – you've heard me ask you 1 million times already in the last decade – What are your dreams? How do you want to be living your life? 
Answering this question can be as simple as asking yourself "How do I want to start each day?"
My morning routine is sacred. And confession? I'm pretty pissy when that routine gets disturbed. I wake early. But that doesn't mean I rise early. I stay under the covers two or three hours after my eyes open spending time thinking, reading, snuggling with the cats but mostly writing in that hour between wake and sleep when I can hear myself so clearly. My dream is to write a NY Times best-selling memoir – and I'm the girl who turns dreams to reality – so I'm pursuing my writing the same way I pursued my building my career in antiques. One step at a time. For me having a work schedule that allows me to take that time daily to write in the morning is an essential part of HOW I want to live. (You can read some of my musings at www.republicoftoma.com) 
 
One of the things these last two years of the pandemic have shown me is I need to travel. Not the manic way I did before. I like my life now. Going to the gym. Regularly seeing friends. Connecting with them on an intimate level. Taking Italian lessons. Sleeping 8 hours a night.  But Diane Vreeland said it best – "The eye has to travel."

I'll never forget the day I was sitting at Ombre del Leon overlooking Basilica di Santa Maria della Salute and the Venetian lagoon with my friend and director #watchthisspace Radek Wegrzyn and he asked the question – "What is your core need?" 
I responded quickly, "Security." I was having a horrible time making decisions about my divorce because I was afraid of financially taking care of myself. He laughed. "Toma, I can assure you if Security was your core need you wouldn't be sitting here today." 
I sat for a moment. He was right. I answered again.

"My core needs are Adventure and Beauty. Independence. Flexibility."

Security was a reaction against those words. A reaction to try and attach my parachute to the airplane when I jumped.
This winter I felt the need to travel.  So, in December and January, I took an extended trip traveling across France. I drove from Venice with my 2 cats to Paris, Normandy, Biarritz, and beyond…. I ended the trip at Relais Mont Blanc. (Visit republicoftoma.com to read all about these adventures). During these days I took time to think about my priorities for 2022. I chose my words of the year… Yes. I said Words. Normally I choose just one. I chose Receive. But another word came to me… FLEXIBILITY. 

This year I chose to Receive rather than make things happen – I'm really good at making things happen, but this year my mantra is "not by force but by grace." Rather than demanding things go exactly as I want them to… I'm open and ready to receive the right opportunities that come my way.

Successful Antiques Businesses Have Successful Habits.
Here are a few tips from me – Toma Clark Haines CEO of The Antiques Diva & Co – on some questions for you to ask yourself – and answer – about your antiques business EVERY MONTH. Copy & Paste these questions into your calendar so they pop up on the first of each month!
Review monthly sales. Where did the sales come from?
What was the most profitable thing you sold last month?  
What was your most profitable sales day? And why? 
How can you repeat this?
Have you noticed that you always sell a particular vendor/supplier's inventory first? How much of your current inventory comes from that vendor?
Any idea where the leads were generated?
Have you checked your website numbers?
What about your newsletter? What was your open rate? Did you send one last month? Will you send one this month?
How is your social media performing? 
Did your followers grow? How did they grow? 
What singular effort brought in new followers?
What's one new thing you can do for marketing this month?  
What outstanding bills do you have?
What outstanding inventory are you waiting to receive?
Is there anyone who owes you money? Have you chased them down to receive those funds??
Did you pay all your bills on time? (It's good karma, what you put out gets returned to you)
Here at The Antiques Diva our mission is to EDUCATE and EMPOWER our clients. But here's the question… What do YOU want to know!? Write me and let me know what questions you'd like us to answer.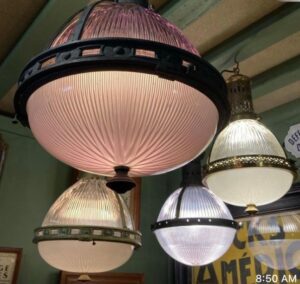 PRODUCT SPOTLIGHT

One of the coolest things to cross my desk recently were these fabulous Mid Century Holophane Parisian Street Lights.
We helped a client source these recently through our virtual antique tours and buying services. These street lights were made in France in the 1960s, and they have been converted into pendant lights.
We found these from 600€ per piece to 1000€ trade export price, plus our 10% buying service commission. A key element of these antique Parisian street lights is the borosilicate glass – which filters the light good enough for instagram – evenly illuminating the area surrounding it casting no shadows. Most of the pieces we found were 40 cm diameter (or 15.75 inches).

While they are not in perfect condition and have wear according to their age (as one dealer wrote, "imagine all the French school kids who threw rocks at the lights after school!") – they have been restored and are ready to go – Adapted for the USA! Lighting is a great way to add impact and flair and glamour in your antique shop.

Did you know we even work in Murano and mainland Italy and can have handmade chandeliers made for you?
WHERE TO ANTIQUE SPRING 2022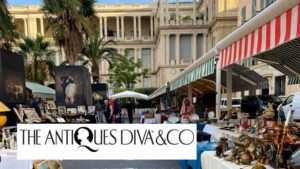 Oh la la…It's Paris Shopping Chic this March 2022.

As you know Maison Objet and Deco Off changed their dates from January 2022 to March 2022 – which means for the first time ever it coincides with Chatou – La Foire Nationale a la Brocante e Jambon, which is hands down one of my favorite flea markets in France. And to make matters even more interesting – this occurs in conjunction with the Chartres Deballage – wholesale only trade fair.   
 
10-20 March Shop Chatou Flea Market 
23 March Shop Chartres Deballage
24-27 March Shop Maison Objet 
23-27 March Shop Deco Off
 
We are offering a SPECIAL PACKAGE:
WHEN YOU BOOK 4 DAYS this March 2022 GET 1 FREE
Inquire for details.
 
Join us for BREAKFAST IN PARIS?

Would you like to join us for an intimate breakfast in Paris on March 27, 2022? While our big Paris Flea Market Champagne Brunch was canceled in January 2022 due to the pandemic – we are still happy to meet you for champagne at the Puce de Paris on Sunday 27 March during the new M&O and Deco Off dates. 
 
WHOLESALE SHOPPING IN PROVENCE
Our speciality at The Antiques Diva & Co is sourcing for and with "the trade". Join us to shop the TRADE ONLY Antique Fairs in the South of France by shopping the deballages in conjunction with antique warehouses, flea markets, and one of a kind boutiques.
 
Feb 20, 21 & 22
March 20 & 21
April 24, 25, & 26
May 22 & 23
June 26, 27 & 28
VIRTUAL TOURING IN ENGLAND
One of the biggest advantages we are offering antique dealers is the opportunity to be everywhere at once. Even when you can't travel abroad, you can join us for some virtual Antique Tours in England and France. In England, let Gail McLeod, VP of The Antiques Diva & Co, give you the inside source on decorative antiques. We'll take care of all the details – custom plan your shopping experience, liaise with international shippers, negotiate, translate, and be your "back office" support team in Europe as we help you buy antiques abroad and ship them home sweet home.

Email me, toma@antiquesdiva.com, to book your appointment to schedule your virtual antique tours which allow you to shop in Europe from your armchair. Availability is first come, first serve and booked in 1 hour increments so make sure to reserve your time-slot today.

31 March – 3 April – Bath Decorative Fair
23-27 March – Chelsea Antiques Show
(make sure to listen to the podcast interview with Sophie Woods about this show) 
4-8 May Battersea Decorative Fair
13-15 May Petworth Park Antiques Fair
26-29 May Henley Decor Fair
And Last But Not Least – book either a virtual or REAL LIFE Antiques Tour right here at home with me in Italy – at Mercanteinfiera. We can do virtual appointments or real life shopping tours 
March 10 & 11 TRADE DAYS Mercanteinfiera
Mamma Mia, this newsletter has been a whirlwind. As I write it – it feels like we've settled into a new normal. No – the world won't be what it was before. And we wouldn't want it to. We don't want to lookback – but to go forward – better than ever before. 
As I close, I'm using an OLD photo of me from a photoshoot with Susanna Ollmann just before the pandemic. With our Carnevale theme, I couldn't resist but to use this photo I never got to share! 🙂 I'm in many ways softer. More serious. Less polished. More me. I've handled hard things and I think as a result I am more open to going with the flow handling what life throws at me. I suspect we all are changed in a million little ways. What I know is I'm ready to step into the future with all the knowledge of the past evolving the way I live my life and do business. And I want to help you do the same. Book your free consultation to find out about Business Coaching for Antiques Dealers
I encourage you to email me your questions and concerns and tell me what topics you'd like me to cover in this newsletter and on our podcast The Business of Antiques. And I ask one great big favor? Would you go to wherever you listen to podcasts – iTunes, Spotify, Google Play, or anywhere else you listen to podcasts – and subscribe and leave us a 5-star review. This helps us get sponsors, achieve higher ratings, and reach more listeners. Lastly, if you're not following me on Instagram, make sure to follow today @RepublicofToma and @TheAntiquesDiva

Warmest regards and Bonne Shopping!

Toma

Toma Clark Haines – CEO of The Antiques Diva & Co